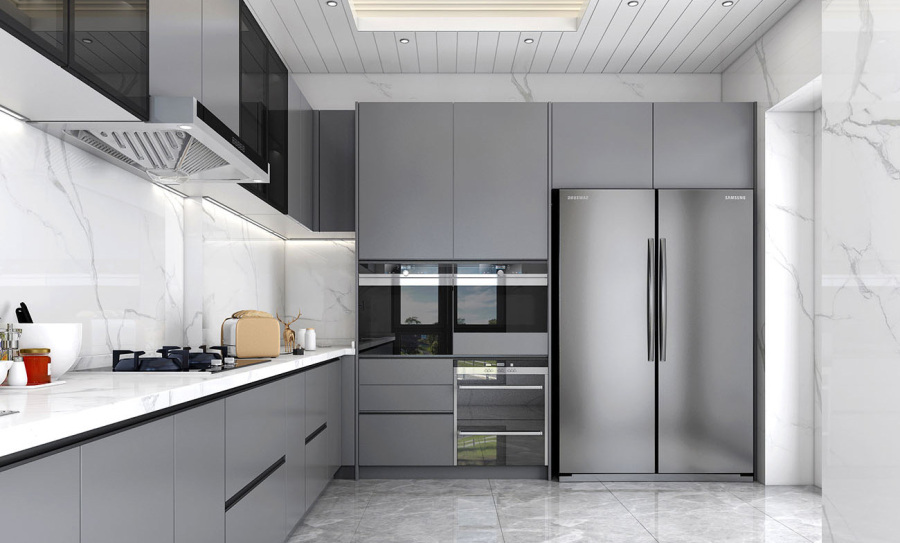 How to Plan L-shaped Kitchen Cabinet
Wednesday, 09 November 2022

1

2127

0
What is an L-Shaped kitchen?
An L-Shaped kitchen layout refers to using a right angle to make two adjacent walls into a kitchen area, this is a type of kitchen that pursues visual aesthetics in classic details.
L-Shaped kitchen layout
The layout of the L-Shaped kitchen is very simple, space-efficient, and open kitchen plan. The space handling follows the working triangle principle and it is very easy to do cooking and cleaning.
What is the triangle principle?
The traffic flow working triangle is:
1. The Refrigerator and Pantry (food storage location)
2. The Sink and Countertops (food preparation location)
3. The Stove (cooking location)
The stove is on one side of the triangle, and the sink and refrigerator are on the other side. When doing food prep, you take the material from the refrigerator to the sink to clean and prepare. Turning around is cooking. The entire operation route is triangular, forming a non-repetitive streamlined operation that you can enjoy your ease and efficiency here. The L-shaped kitchen layout is most efficient if the distance between the counters is no more than one meter.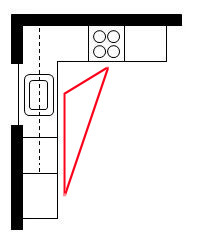 Regarding designs in terms, the main issue that should be followed regarding the L-shaped kitchen floor plan layout is as follows:


1. If the kitchen has windows, the sink should be placed in front of the window, thereby providing sufficient sunlight and keeping the sink dry. Wall cabinets and range hoods can be placed in nearly all of the available benchtop space.
2. It is necessary to leave at least 50cm of space between the sink and the stove as the food preparation operating table.
3. If the kitchen area is larger than usual, turning an L-shaped into a U-shaped will be a great idea to increase countertop and storage spaces.
The design features of an L-Shaped kitchen
1. Also known as a semi-closed kitchen, it can satisfy most kitchen styles and configurations;
2. Full use of the corner position, improve visual privacy, and storage space, and facilitate daily use for extending living space;
3. Divide the upper part of the vegetable washing area to truly achieve both washing and cooking;
4. Effectively provide above and below countertop storage space.
Disadvantages of L-shaped kitchen layouts
1. The wall cabinet and corner area of the L-Shaped kitchen easily form a visual blind area, and it is a good idea to add a pull basket design in the corner area of the modern kitchen design;
2. There may be not enough lighting in the stove area. LED lighting should be added under wall cabinets to illuminate some or all of the countertops.
Which flexible design can be extended for L-Shaped cabinets?


1. L-Shaped kitchen + island counter
Open kitchens are becoming a more and more popular style with the public. The "kitchen +breakfast bar" is an opportunity to incorporate simplicity and flexibility. The space allows multiple users to work on worktops. Adding an island to the L-shaped kitchen not only adds a new functional area but also greatly improves the kitchen's extra counter space.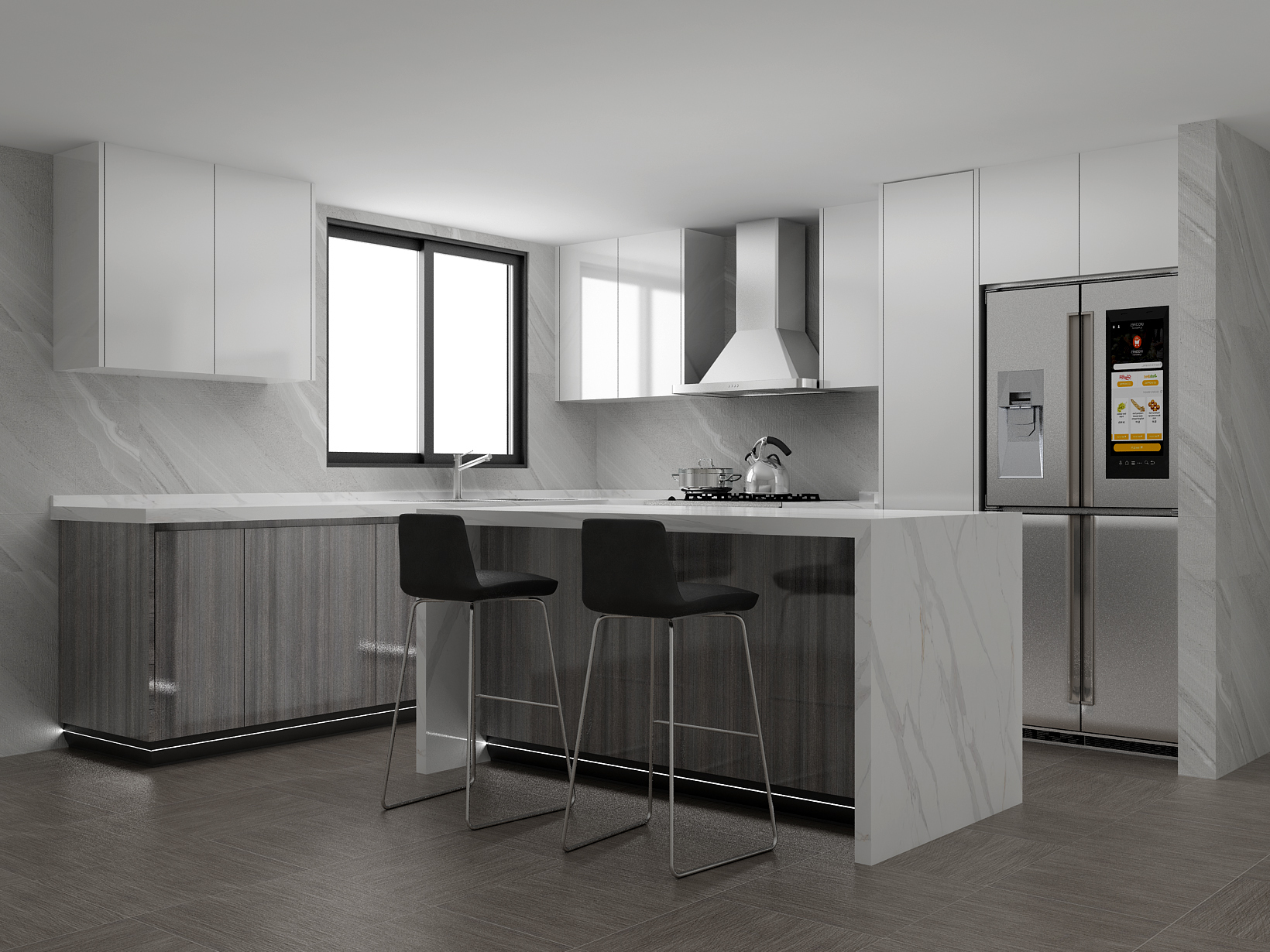 2. L-Shaped kitchen + sidebar (small bar) extended into a U-shaped design
A sidebar counter allows family or friends to sit at the gorgeous bar table to chat and help, enhance communication and family life with each other, and make cooking more fun.
3. L-Shaped kitchen + small casual dining room
The L-Shaped kitchen + dining room is a very popular design today. The tasks such as picking vegetables, washing vegetables, and placing dishes can all be done on the table, as well as for entertaining guests. When the meal is finished, it is directly served on the table, which perfectly saves space for the countertop operation.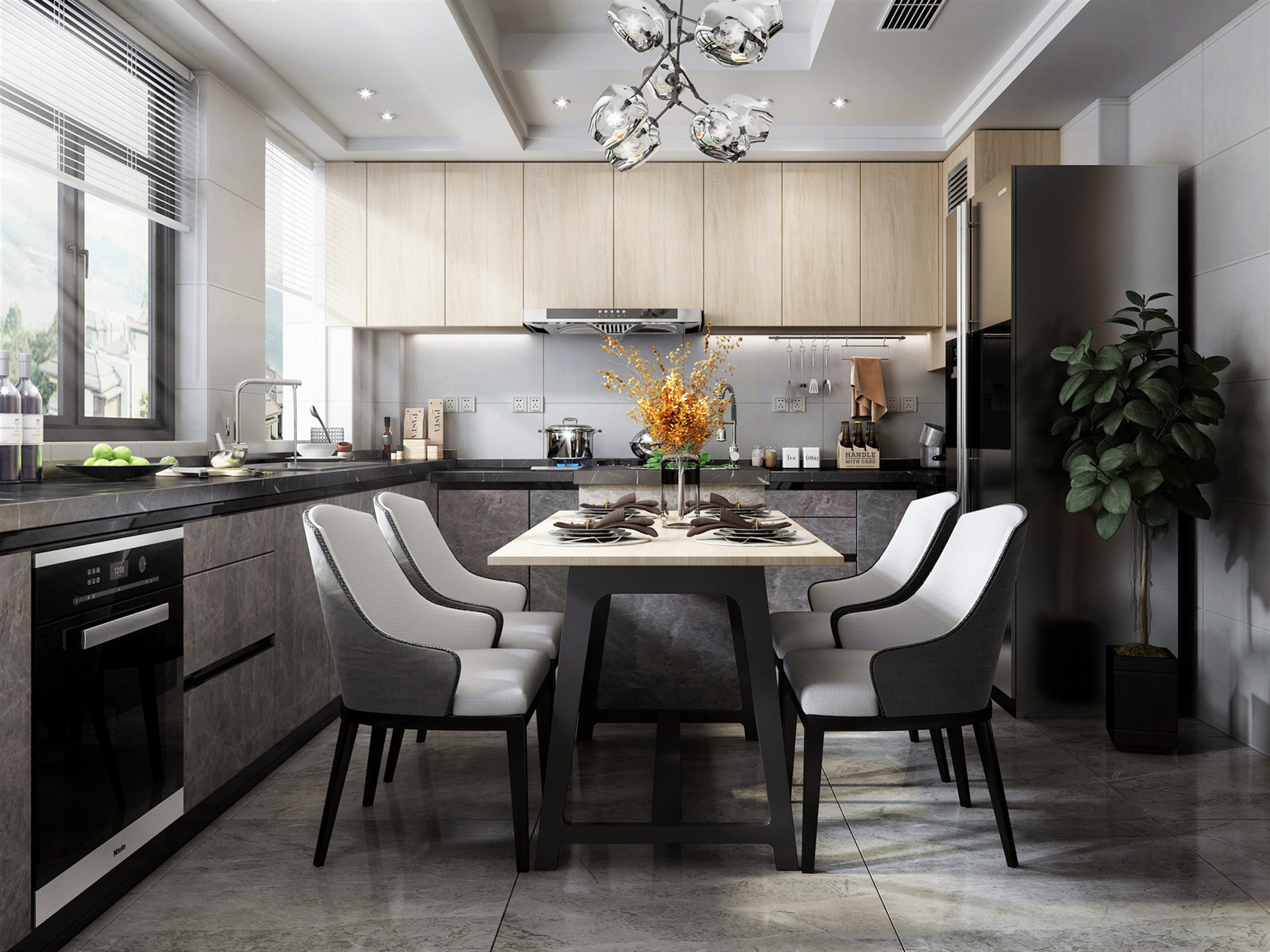 kitchen storage ideas
The L-shaped kitchen layout uses space well and can leverage kitchen appliances, corner space, stove space, multi-layer drawers, etc. to achieve multi-functional storage.
1. Appliances embedded in the cabinet
Kitchen appliances like a built-in oven, microwaves, or small stainless steel appliances embedded into cabinets use space efficiently and have a pleasing aesthetic.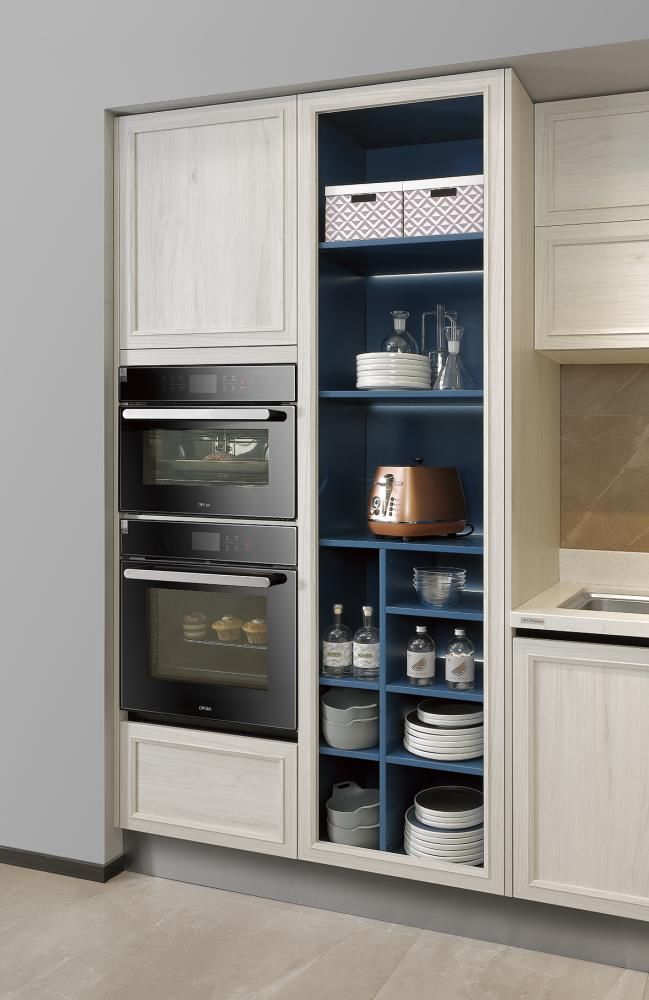 2. Corner space
The L-shaped kitchen layout requires bigger under-countertop appliances to effectively use the corner space. A kitchen basket corner pull-out can be used. Even if the corner is deep, it can be fully utilized.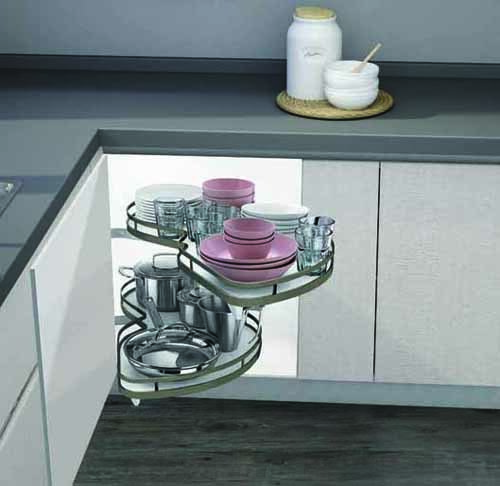 3. Stove storage solutions
The stainless steel kitchen basket drawer can be used to store utensils, dishes, and other items that are frequently used during cooking so that it is convenient to take the items.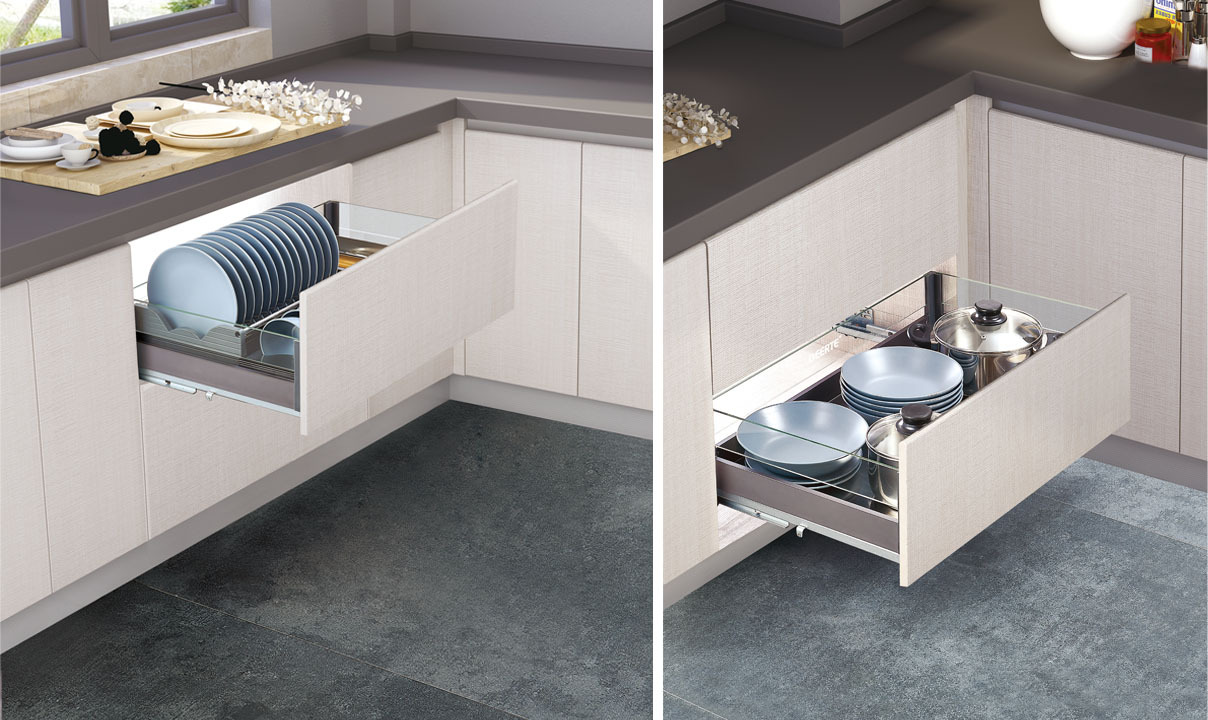 4. Multi-layer drawer cabinet
The drawers have multi-layers. They are very convenient for sorting and storing miscellaneous items.
In this new era, businesses must provide convenient storage for products. While stainless steel pull-out baskets may be useful for storing seldom-used items, they also allow consumers to easily find commonly used products.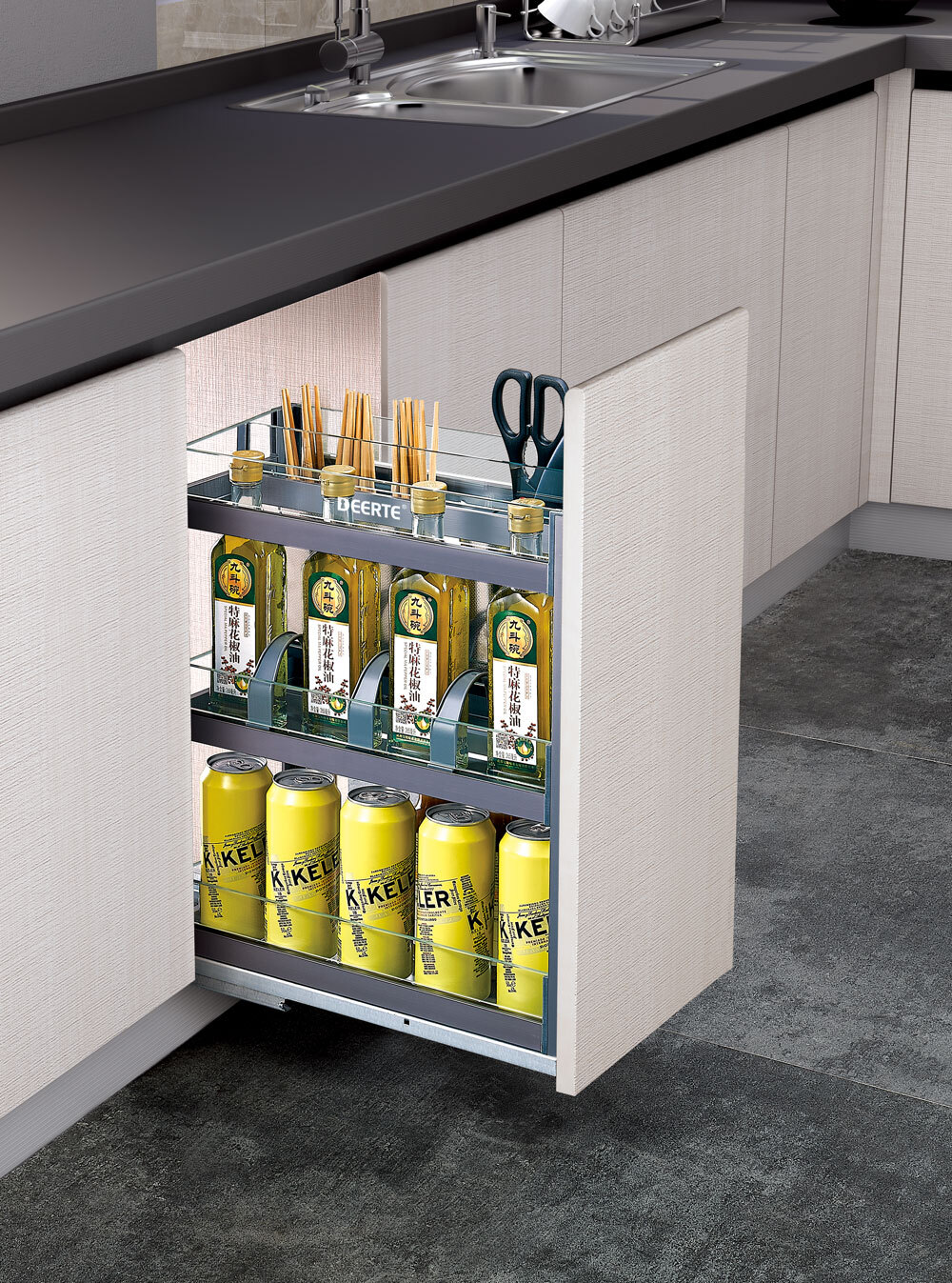 There are many layout techniques for L-Shaped kitchens. The most important thing is that we need to plan according to the usage scenarios and suit practical requirements. But, it's not good in the short term to decide the whole kitchen plan. Because there are many issues needed to be settled as follows,
1. The shape and size of the kitchen, as there are l-shaped kitchen, galley kitchen, U-shaped or unique combination design features, it can be modern kitchen designed, contemporary and traditional, solid wood cabinet, or just traditional cabinetry.
2. To choose the best color scheme to match the kitchen design, for example, light color makes the room light and bright, it creates the person a bright warm sense to greatly match the painted walls or ceramic tiles, the color like light beige, blue and white color block, or wood tones, like dark brown for the surface material color, as well as gray granite countertop, black granite counter, or natural stone for workspace.
The L-Shaped kitchens are suitable for either small or large apartments, with careful planning it is possible to design a perfect L-Shaped kitchen.