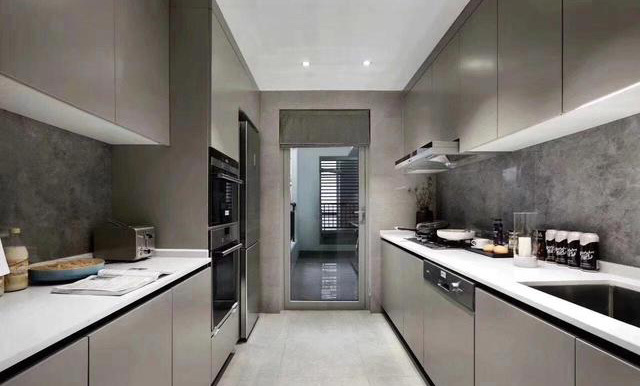 Galley Kitchen Layout Design Tips
Thursday, 10 November 2022

1

1660

0
The kitchen should be built to make it easy for you to use every day as it is usually the busiest room in your house, so it should be designed with your lifestyle and tastes in mind. While you have endless kitchen designs and layouts to choose from, a popular layout is the galley kitchen. Here are some tips for galley kitchens.
What

is

a Galley Kitchen
A galley kitchen is one of many types of kitchens that has a long, narrow walkway. Base cabinets, wall cabinets, counters, and other services are located on either side of the walkway.
The Work Triangle
The galley kitchen work triangle should be an equilateral triangle with all sides of equal length. Kitchen designs that use irregular triangles are awkward and inefficient.
It is generally recommended to place the oven and cooktops and refrigerator on the same side of the galley kitchen. The sink, dishwasher, and food preparation area are most commonly on the opposite side.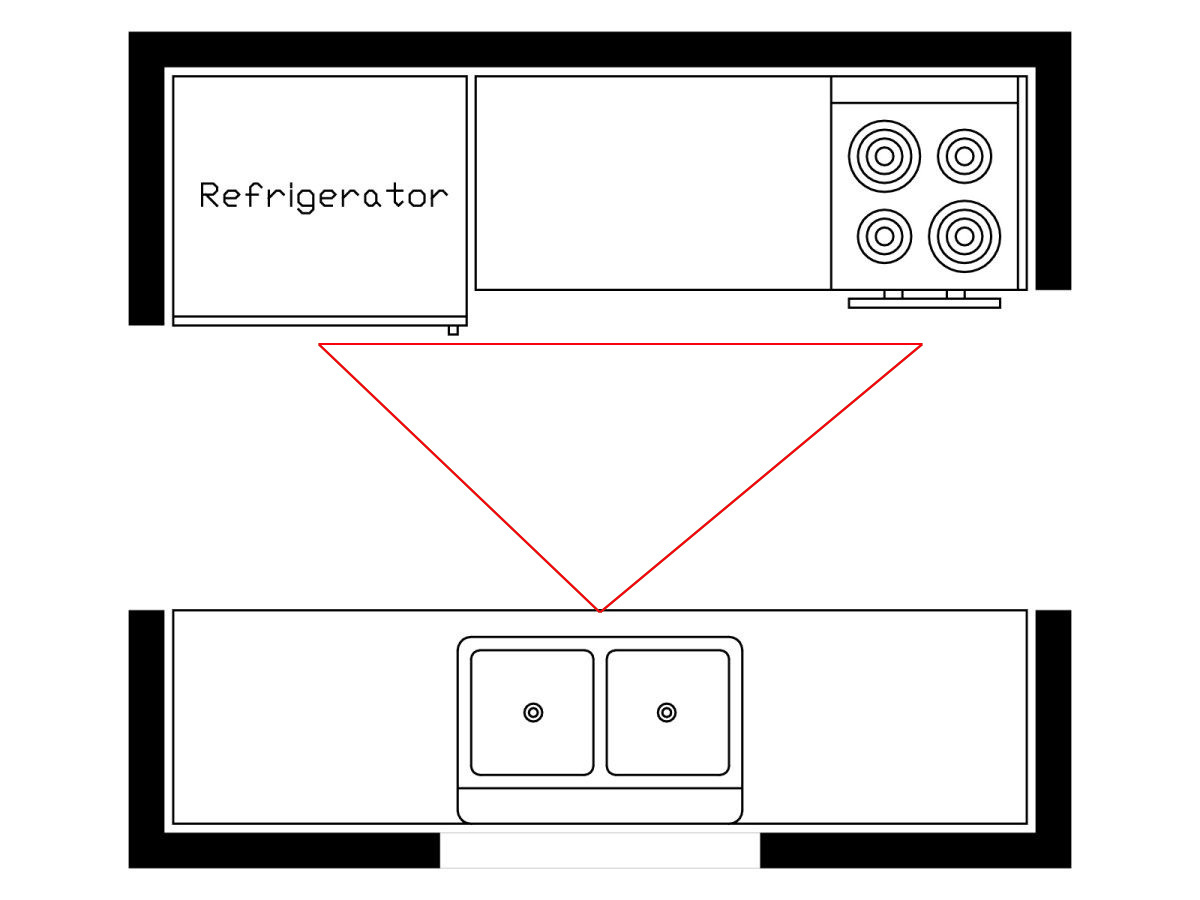 What floor plan is best

for a Galley Kitchen?
A galley kitchen is a practical and efficient design for small spaces. It is ideal for small and narrow apartments. A galley kitchen layout maximizes the floor space and provides more storage.
Galley Kitchens Pros and Cons
Galley kitchens have pros and some cons. Here are a few:
Pros
1. Galley Kitchen

is Efficient and Functional
A galley kitchen is streamlined and efficient. Everything you need to cook is on one side of the room, and there are no dead spaces. You can easily get to all areas of the kitchen with just a few steps. This design prevents people from running back and forth while they are cooking.
2. A Galley Kitchen is an Ideal Layout for Small Spaces
The galley kitchen design is a good fit for smaller spaces and when you want a smaller kitchen. Because it is long and narrow, it has lots of flexibility for placement in a custom home. It also has a lot of versatility; it can be easily and efficiently transformed into more room space. A Galley kitchen can have two open ends or a single open end. Two open ends allow for easier entry and exit from either side of the galley, but care must be taken when planning connection to other rooms and spaces in the house. A single entry and exit have easier connection planning but can cause congestion during peak times such as breakfast when many people need to enter and exit the kitchen.
3. Galley Kitchens Provides a Large Work Space

A galley kitchen is a great solution for a kitchen small space. A galley kitchen has two counters on opposite walls. This way, you can easily move from one counter to the other without getting in the way of others. Galley kitchens are also great for more than one person. They have two counters, so two people can work at the same time.
Cons
1. Galley Kitchen is Narrow
Galley kitchens are a popular choice for apartments and small condos. The countertops and cabinets are placed on two sides of the wall. This allows a shorter distance between the cook and the sink. While this design is a bonus for people with a small living space, it also has its disadvantages. Galley kitchens are typically very narrow, which can make it difficult to provide enough lighting in the space. Although there are two counters in this kitchen, they are not very large and they share the same floor space.
2. A Galley Kitchen

is

not working for Multiple People
Two people can use the galley kitchen, but when more people are present, a galley kitchen layout is less suitable. This layout is better for couples than families because there is a lack of space to accommodate multiple guests. It is not the best choice for families or those who often entertain guests.
3. Galley Kitchens Offers Limited Storage Space
Galley kitchens have limited storage. They have cabinets and drawers, but it's hard to find places for larger items. Although there are some spaces for food preparation and cooking, you may not be able to store all your pots, pans, and supplies. If you need a lot of storage space in your kitchen, you may want to consider another layout. In this kitchen layout, creativity is key to organizing everything. If you need to add more storage or expand the kitchen, you may have to build another wall or even knock down a wall.
Galley Kitchen Design Considerations
1. Make it Sample
When building or remodeling a galley kitchen, stay with the basics. Don't add things that take up space. Keep it simple with only the essentials: upper and lower cabinets, counters, a refrigerator, sink, stove/oven, and dishwasher are the minimum requirements for most people. Having the kitchen open at one end is most efficient since it allows access from either end. It reduces foot traffic with an efficient arrangement.
2. Sink arrangement
The kitchen is the most important room in the home, yet it is often the smallest. In this case, if you have an opening in the wall you want to make use of or a window at the back of the kitchen. This simple principle can make a huge difference, it will be highlighting your decor and make your home more attractive.
3. Creates M

ultifunctional Storage Space
Kitchen cabinets can go all the way to the ceiling for more storage space. This design element can create an overwhelming presence in a small kitchen, but maximizing storage space is usually a good move. The only drawback is that this strategy tends to make your kitchen feel very tall.
If storage space is not critical then the wall cabinets can be lowered 5-10cm from the ceiling. For example, lazy-susan and roll-out shelves add storage space to the often-wasted space behind cabinets.
4. Consider About the Walkway Space
The kitchen should have an open layout. This way, everyone can see each other and feel connected. The kitchen should also be wide enough to accommodate family members. An open dishwasher door may completely block a galley kitchen.
5. More Comfortable with

Light and Neutral Colors
To keep the kitchen feeling spacious, use brighter colors. The key to a galley kitchen is using lighter colors and materials. Use lighter shades for floors, cabinets, appliances, and even wall colors. For example, you can use white cabinets with brighter flooring and appliances. This is especially true if you use light finishes on cabinets, such as maple, birch, or bamboo.
6. Enough Lighting
The recommended illumination level for a kitchen is 500 lux and 750 lux for food preparation. You may want to install LED strip lighting over the sink and some under-cabinet task lighting in addition to your ceiling lights.
Where can I get an estimate for a Galley Kitchen design
?
Aspire Building Materials provides galley kitchens for both new homes and renovations. We offer the latest designs to ensure your kitchen is both modern and functional. Our experts will help you find the perfect solution for your household and provide an estimate to complete the project. Give us a call or leave a message, and we can help guide you through the process and find the right solution for your household.