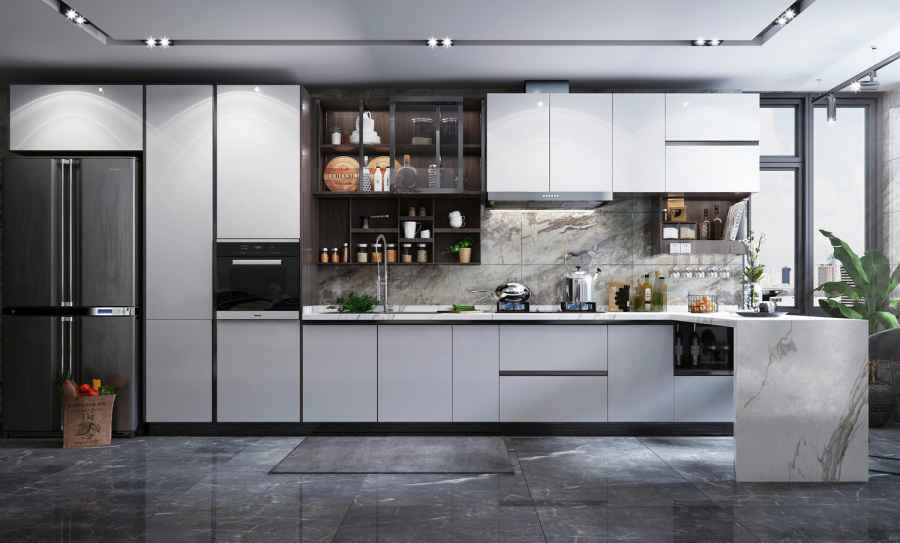 Importing Guide: Custom Kitchen Cabinets From China
Monday, 21 November 2022

0

1880

0
Are you remodeling your kitchen and want to add some custom cabinets? Or you want to incorporate Asian-inspired cabinets into your design. Either way, importing custom kitchen cabinets from China may be the best option for you. This guide will walk you through the process of importing cabinets from China. As well as some tips on what to look for when selecting a supplier.

When it comes to custom kitchen cabinets. The five most important factors are design, material, delivery, price, and service. If you're considering custom kitchen cabinets from China. You ought to read our guidance. Why? Because it might help you to know the best price for custom kitchen cabinets from China.
Why import custom kitchen cabinet material from China?
When it comes to renovating your kitchen. Custom kitchen cabinets made from high-quality materials can make all the difference. While there are many places you can find quality kitchen cabinets. Importing them from China may be the best option. Here are a few reasons why:
1. Affordable price
Chinese manufacturers can often provide cabinets at a lower cost than domestic suppliers. This is because they have lower overhead costs. Due to their location and because they manufacture in large quantities.
2. Customized design service
Another great feature of importing Chinese kitchen cabinets is. That you can get exactly what you want. Whether it's a particular type of wood or a specific finish, you can find it in China. In addition, the quality of Chinese cabinet materials is usually very good. This means that your cabinets will last for many years without any problems.
3. Various styles and choices
Chinese manufacturers can offer cabinets made from a wide variety of materials. Including MDF, plywood, particleboard, solid wood, and laminate. This gives you a lot of flexibility in terms of design and color.
4. Introduce advanced facilities
When you are remodeling your kitchen. You may want to consider importing custom kitchen cabinet material from China. There are several advanced facilities that make this process easy and efficient. For example, there are companies that have online catalogs. Also with pictures of all the cabinet styles and materials available. You can simply select the style and color you like, enter your dimensions, and order.
5. Flexibility
Importing cabinets from China can be a quick and easy process. The manufacturers typically have an English-speaking sales representative. They can take care of all the details for you.
Where to import the China kitchen cabinet for customization?
If you're looking for a place to import your kitchen cabinet from China for customization. You can find a variety of options online or at on-site exhibitions. The most popular online destination for finding Chinese kitchen cabinets is Alibaba.com. Here, you can browse through an exhaustive list of suppliers and manufacturers. They can provide you with the exact type of cabinet you're looking for.
Online shopping on www.alibaba.com
Since its establishment in 1999. Alibaba.com has become the world's largest online trading platform. It offers a variety of services. Including online retail, wholesale trade, and business-to-business (B2B) transactions. Alibaba.com also has a strong buyer protection policy. It ensures buyers are protected from fraudulent sellers. In addition to these features. Alibaba also offers low trading fees and free shipping on many items.
On-site exhibition
If you're interested in seeing kitchen cabinets in person before making a purchase. There are many trade shows that take place throughout the year in different parts of China. These events offer an up-close look at different cabinet styles and designs. As well as the opportunity to speak with suppliers face-to-face.
The Canton Fair and Guangzhou CIFF fair. The most two important exhibitions for kitchen cabinets in China. They offer a great opportunity for companies to import and export kitchen cabinets. The Canton Fair is held twice a year, in April and October, while the Guangzhou CIFF fair is held in March.
On-site market visiting
The Foshan Furniture Market is one of the largest in China. And it's a great place to find furniture at wholesale prices. If you're looking to import furniture from China, this is the market you need to visit. It's located in the city of Foshan, which is just south of Guangzhou.
The market is divided into several sections. Including a section for office furniture, home furniture, and garden furniture. You can find just about any type of furniture here, and you can negotiate a great price if you buy in bulk.
The best time to visit the market is on a weekday when there are fewer people. You should also try to visit during the morning or early afternoon. When the merchants are more likely to give you a good deal.
How to import custom kitchen cabinets from China?
When you are remodeling your kitchen, one of the decisions you have to make is what type of cabinets to install. Homeowners often choose to import custom kitchen cabinets from China. Because they are less expensive than cabinets available in the United States.
2. Floor plan
The first step is to come up with a plan for your kitchen remodel. This includes deciding on the size and shape of the cabinets, as well as the type of materials you want them made out of.
3. Quotation
Once you have decided on the design, you need to get a quotation from a supplier in China. This will include the price of the cabinets as well as shipping costs.
4. Selection of materials
After you receive the quotation, you need to select the materials you want your cabinets made out of. This includes everything from the type of wood to the finish and hardware.
5. Drawings and PI approval
Discuss and approve custom kitchen cabinet drawing from the factory before importing them. Then make PI for the said contract. Faster processing, lower costs, and no penalties.
6. Production and payment
You'll pay the deposit for production, usually 50% of the total sales amount.
The cost of importing kitchen cabinets from China varies depending on several factors. Including the size and style of cabinets, as well as whether they are assembled or not. Generally speaking, the buyers will do FOB terms to import them from China.
7. Logistic arrangement
If you do not familiar with the logistic arrangement, you can depend on the factory to arrange them. The most important thing is that you can check the quality of the product before packing and shipping.
Problems when importing custom kitchen cabinets from China?
When importing custom kitchen cabinets from China. There are several potential problems that can occur. One of the most common issues is a quality problem. The cabinets may be poorly constructed. Or not meet the standards that were agreed upon in the purchase agreement. This can lead to costly repairs and replacements down the road.
Another potential issue is installation problems. The cabinets may be difficult to install or may not fit properly in the space. This can cause delays in getting them installed. And can be very frustrating for homeowners.
Delivery delays are also common when importing custom cabinets from China. The shipment may get held up at customs or there may be problems with the delivery company. This can cause a lot of frustration for homeowners who are anxious to get their new kitchen installed.
How to select the Best China Kitchen Cabinet exporter?
When selecting a kitchen cabinet exporter, it is important to consider a few key factors. The first factor to consider is the project support service team. A good project support service team can help with everything from design to installation. They should also be able to provide accurate timelines and budgets.
The second factor to consider is the production equipment. Good production equipment will ensure that the cabinets are made quickly and efficiently. It is also important that the quality control process is rigorous. So that the cabinets meet the highest standards. The German HOMAG and Italian SCM are leading providers of machinery and systems for the woodworking industry.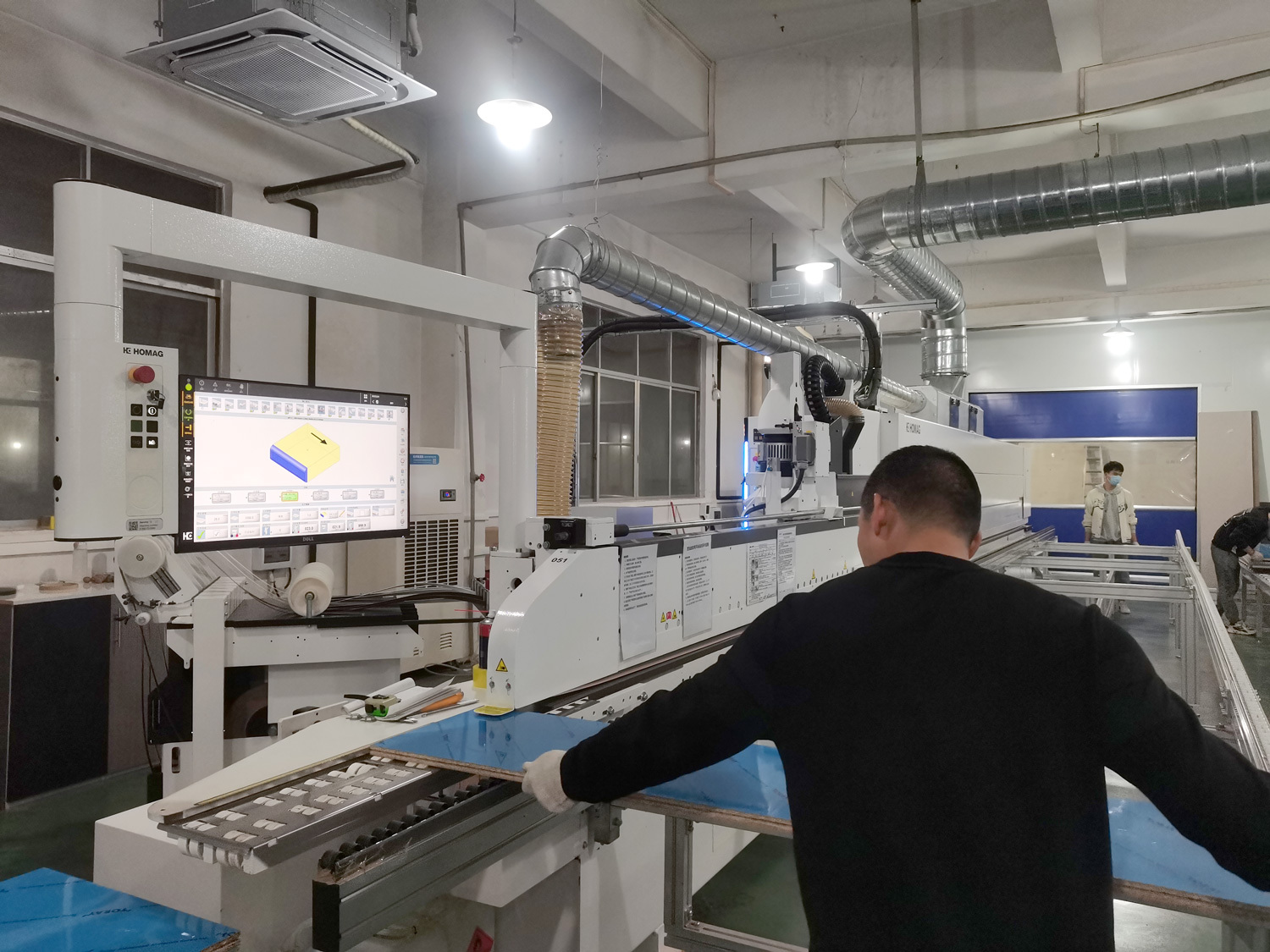 The last factor is quality control. It is important to have a rigorous quality control process for any production. Especially for kitchen cabinets. This ensures that the cabinets are reliable and durable as well as safe and secure.
To avoid mistakes and complete the order correctly. Please take into account the points below:
Infrared scanning control: At each station, set an infrared scanner to scan the QR code on the board. This allows us always to check that the panels aren't missing.
Pre-assembly: After the drilling station, have the experienced worker pre-assemble each cabinet. This involves ensuring that the accessory components are based on the production drawings. Checking the board sizes, and drilling. It also solves fitting problems that have occurred because of a computer program.

By considering these 3 factors. You can be sure to select a quality China kitchen cabinet exporter.
Conclusion
In conclusion. Importing custom kitchen cabinets from China can be a great way to get the cabinets you want. However, there are some things you need to keep in mind to make sure the process goes smoothly. By following these guidelines, you can enjoy your new cabinets for years to come. You are welcome to contact us for further details.