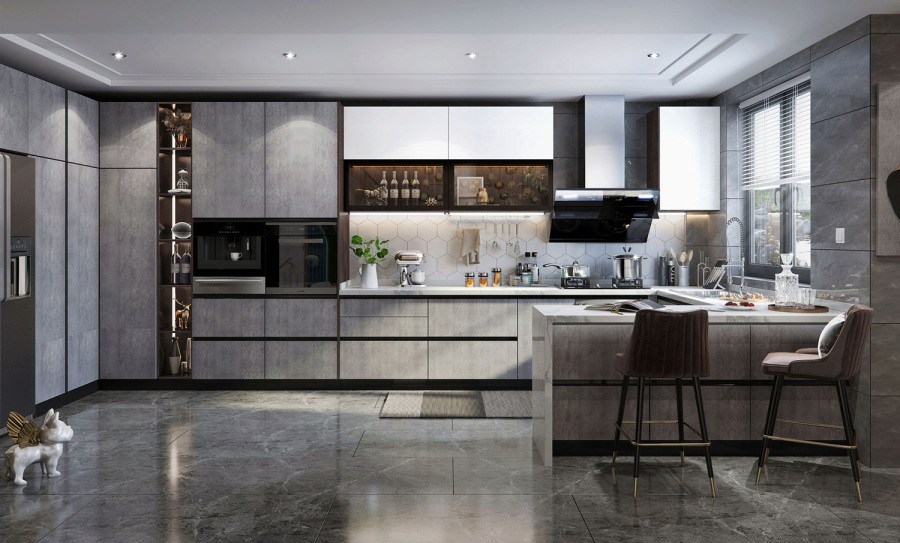 How To Choose The Best Kitchen Cabinet Accessories
Monday, 14 November 2022

0

1094

0
Welcome to the kitchen cabinet accessories guide.



There are hundreds of types of kitchen cabinet accessories on the market today. But some are better than others. In this guide, we will introduce you to three of our favorite brands. W

e hope that this guide will help you in your search for the best kitchen cabinet accessories.



I will start with a quick introduction to the topic. In this article, I will discuss how to select the best kitchen cabinet accessories for your home. We are Home Depot/Lowes/Ikea's supplier of kitchen cabinet accessories. Please

visit our website

,

if you want quality products at affordable prices.
What are the benefits of having a well-organized home?

A kitchen is a place where you cook, prepare food, and bake. A kitchen can also be a place where you clean and organize. But that is not to say that the kitchen is not involved in the home improvement too. So, please refer to the below considerations about kitchen cabinet accessories storage:
・It's a must for every household to have good storage for their belongings.

・A good way to keep your home clutter-free is to organize all your belongings. And put them somewhere they can't get lost easily.

・It's important to keep kitchen cabinet accessories in order. So they don't get broken while moving them around.

・Kitchen cabinet accessories need to be safe from scratches and breakage. If they are to be stored properly inside your house or while on the move.

・Keep order by organizing your house with all its appliances in one place. So that you don't have to search through cabinets for each item you need.
How to choose the best kitchen cabinet accessories?


If you struggled with deciding between different types of kitchen cabinet accessories. Now it's time to learn about the many benefits that come with choosing the right product for your needs.

Choosing the right cabinet accessories for your kitchen can be overwhelming. Here are a few tips and suggestions. It will help you make an informed decision about which products are the best for your needs.
If you are shopping for cabinet accessories. You generally need to compare prices from several stores or manufacturers. This can be very difficult if you do not know much about cabinets and their features. You should always check out websites like Amazon or Lowe's before making an order plan. To get a clear idea of what different types of cabinet accessories cost. Such as price, reputation, reviews, etc.




It is also important to know whether the company provides cabinet accessories. Whether it has been selling its products on the website since they were established. Or if they are new to the market and may not have any reviews yet.
It is important that if a company sells any product. And offer some type of warranty when it comes down to any troubleshooting issues related to.
3. Only buy those that meet your needs
To get exactly what you want when buying kitchen cabinet accessories online. It is important that you only buy those that meet your specific needs. For example, if you want metal utility drawer knobs. Please use an online store such as Lowes or Home Depot. In case to buy something that does not match what you need. It is simply not available from that store in any other way (for example, color).

When shopping online remember:

a) no one has time to look at every accessory;

b) it is beneficial to shop around in case there are cheaper options;

c) shop around on several websites so as not to miss out on an item due to cost;

d) search for products such as wooden drawer pulls etc.;

e) do not buy cheap items without considering the quality issue;

f) do not buy items without reading reviews first. This is how people determine whether they really want it or not;

g) read customer reviews carefully before buying anything else. (this means taking pictures and writing down descriptions);

h) never leave feedback without reading all of them carefully;

i) always read comments very carefully;

j) always choose based on experience rather than price alone (i.e., choose wisely).
4. Looking for a "factory direct offer"
We are Home Depot, Lowes, and Ikea brands' suppliers of kitchen cabinet accessories. We supply the best quality at reasonable prices. Our goal is to offer our customers the best products at their place of choice. We strive to provide you with a variety of quality products.




Our kitchen cabinet accessories are made in China. The main materials are stainless steel and wood. Those will keep your kitchen appliances working effectively in the long run.

We also have different kitchen cabinet accessories that you can choose from. We aim to meet all your needs for kitchen cabinet accessories to make up for yourself.



Kitchen cabinet accessories are a necessity in households. They are not just for show. Without it, your kitchen would look like a disaster zone.




If you have a busy household. You're going to need kitchen cabinet accessories to keep your kitchen organized. If you're like most people, you probably use the same products day after day. Like plates, cups, and silverware… but not necessarily the same ones each time. This can get annoying and even frustrating at times. Make sure that you have everything in one place when you need it. We've compiled a list of the best kitchen cabinet accessories available on the market today. And also listed our top picks for those types of products. Please download our

catalog

for listed best kitchen cabinet accessories.






The kitchen cabinet is a very important part of any home. They can be used for many purposes and it is not difficult to use them correctly. But if you do not have good knowledge about the most important aspects of using the kitchen cabinet. Then it will be really hard for you to make the best buying plan for your house.



A

rchitecture is a passion of mine. I love designing spaces with lots of natural light and open floor plans. That's why in my spare time, I design kitchens and interiors using a variety of different materials. Such as stone, wood, clay, glass, concrete, and steel.




I wanted to share my experiences on the subject with you because it's one of my favorite hobbies.




First off, you should always base your choice on what you need in your kitchen or living room. If your living room is too small for your family, then most likely you won't be able to store any furniture there. If you have more than one family member who is working from home or school. It may make sense for them to have their own work area at home; thus giving them more space to work from home.




Congrats, you've found us. We are designers, retailers, and marketers of kitchen cabinet accessories and products. We provide you with the best quality at the best prices.

We have been in the Cabinet and Construction Industry for years. As a supplier of kitchen cabinet accessories and products to thousands of clients from all over the world.