Installation Instructions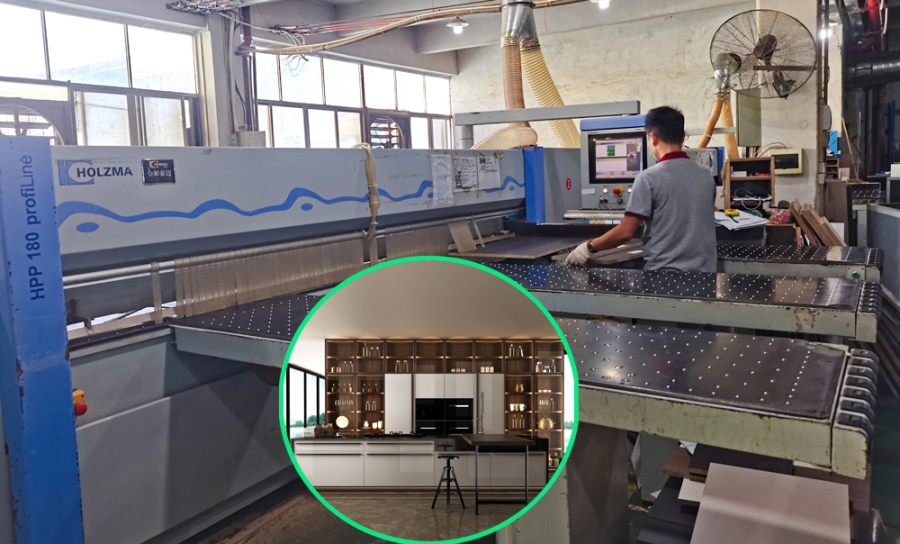 How Kitchen Cabinets Are Made
Sunday, 09 October 2022

0

402

0
A kitchen is one of the most important rooms in a house. It is where families gather to cook, eat and spend time together. If you are planning a kitchen renovation. One of the most important decisions you will make is choosing the right cabinets. Custom cabinets from a China factory. It can be a great option for those looking for high-quality, stylish cabinets. This article will explain how kitchen cabinets are made. And what to look for when choosing the right cabinets for your home.
What is the process of making cabinets?
Cabinets are an important part of any kitchen or other room in the house. They provide both storage and style. But what is the process of making cabinets?
Cabinetmaking involves several steps, from design to construction to finishing. In general speaking, first, the cabinet designer creates a design for the cabinets. This may be done with computer-aided design (CAD) software. Once the design is complete, then cut the wood to size and assemble the cabinets.
The process of making cabinets is both art and science. With careful planning and execution. The cabinetmakers can create functional pieces that will last for years to come. In this section. We are going to introduce a step-by-step of How Kitchen Cabinets Are Made in a China factory.
Step 1. Production list
When it comes to cabinet making, the first thing you need to do is create CAD drawings. These drawings will help you create a sketch design for the cabinets. Then the design dismantling departments will follow the final kitchen cabinets sketch design. To make production technical documents. And upload them to the production system to generate the producing files.
The producing documents include,
Carcase panel list
Door panels
Hardware accessories table
Door panels
Quotation list
Step 2. Materials Preparing
Cabinet-making is a process that involves several steps to create a finished product. The second step is to prepare the materials. For a standard board, the size is 4x8 feet or 4x9 feet. The boards can be made out of MFC (anti-moisture medium density fiberboard). It is a type of particle board, or it can be made out of plywood. All the board thickness for carcase is at least 16mm thick, but thicker boards will be more durable. Once you have all your materials, you will need to measure and cut the boards to size.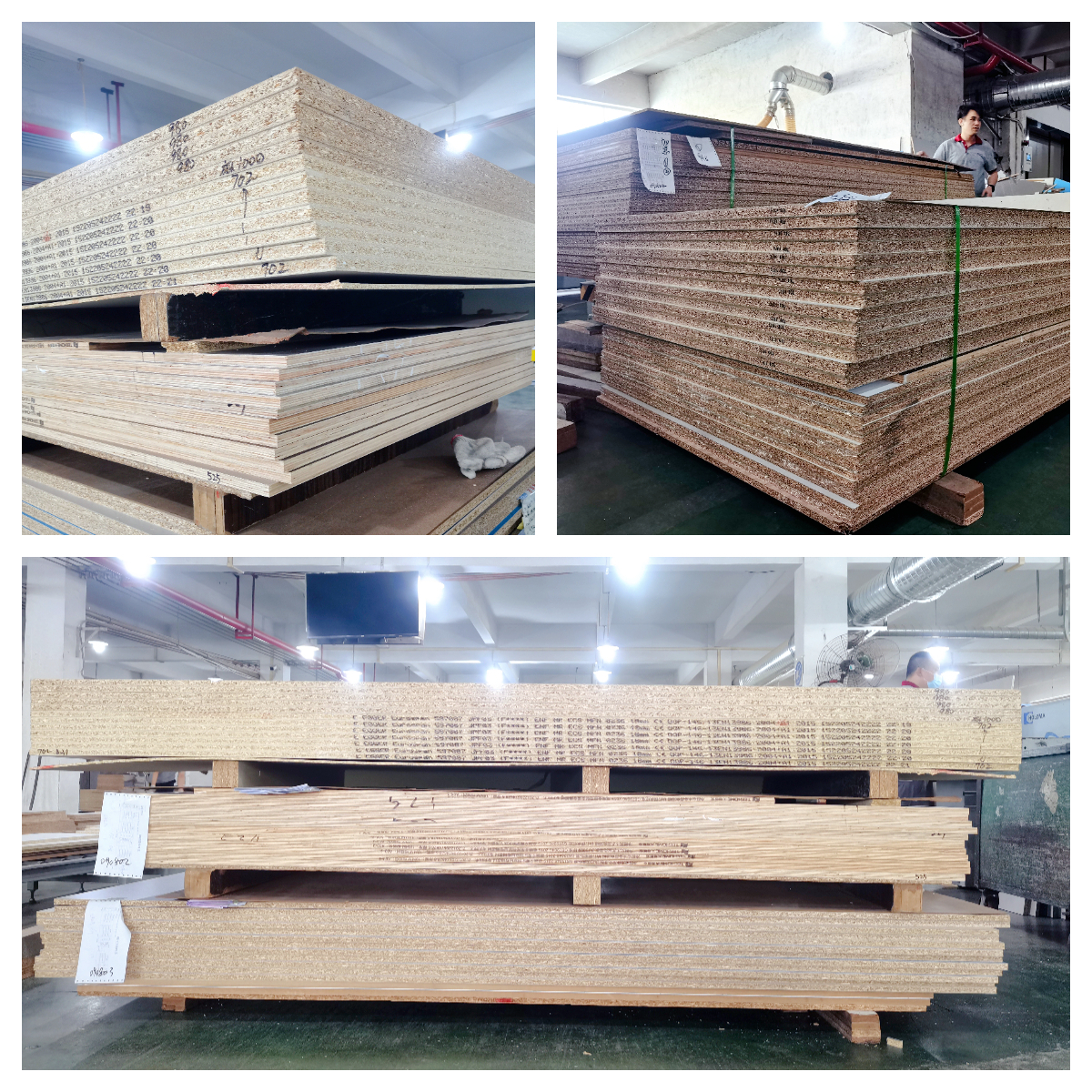 Step 3. Laminate
In woodworking, a laminate is a layer of material, usually surface treatment. That is glued to the surface of an MDF, plywood, or particleboard. It is applied to cabinets to give them a smooth, shiny finish. There are three types of kitchen cabinet laminate: UV, acrylic, and PET. UV laminate is cured with ultraviolet light. And the acrylic laminate is laminate with heat. PET laminate is another type of high-end laminate. It is used in luxury kitchen cabinet design. It is made from polyethylene terephthalate. And it provides a high-gloss and super matt finish.
Our factory laminate boards are applied to kitchen cabinet doors and wardrobe doors. And it is produced by our own factory with the importing equipment from SPAIN.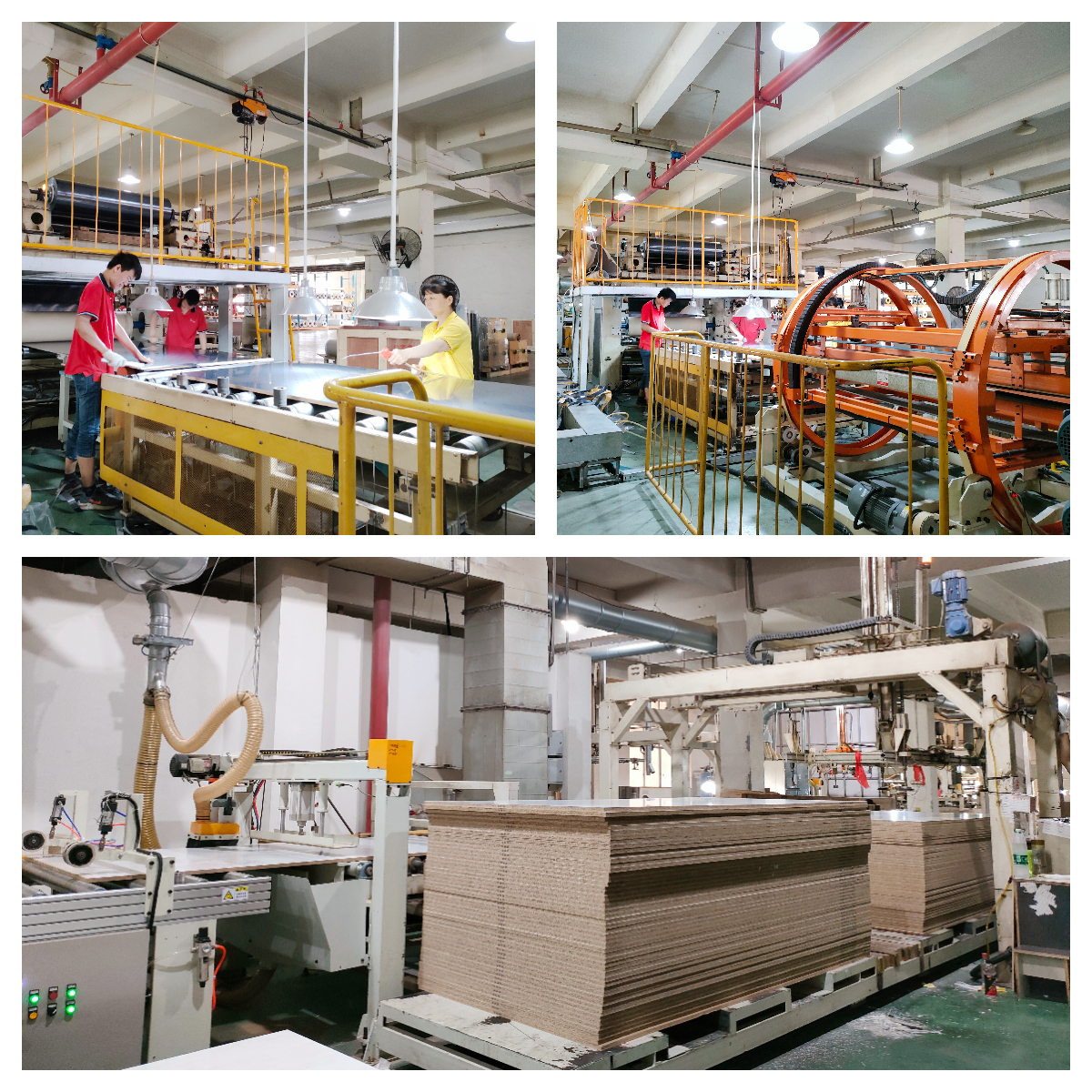 Step 4. Cutting
As technology advances. It can be challenging for small manufacturers to keep up. There are some factories that are still using a hand saw or domestic cutting machine. And those machines are not able to ensure dimension stability. Obviously, the quality also cannot be guaranteed. Yet, there are decent manufacturers that use the German HOMAZ HPP 180 cutting machine. And appreciate the quality cuts it provides. The HPP 180 cutting machine required a skilled worker to operate it.
At Aspire Building Materials, we value the experience and expertise of our workers. And we have committed to the production of high-quality kitchen cabinets for many years. All our production lines are German imports. So every time you buy one of our products, you can be sure it's high quality.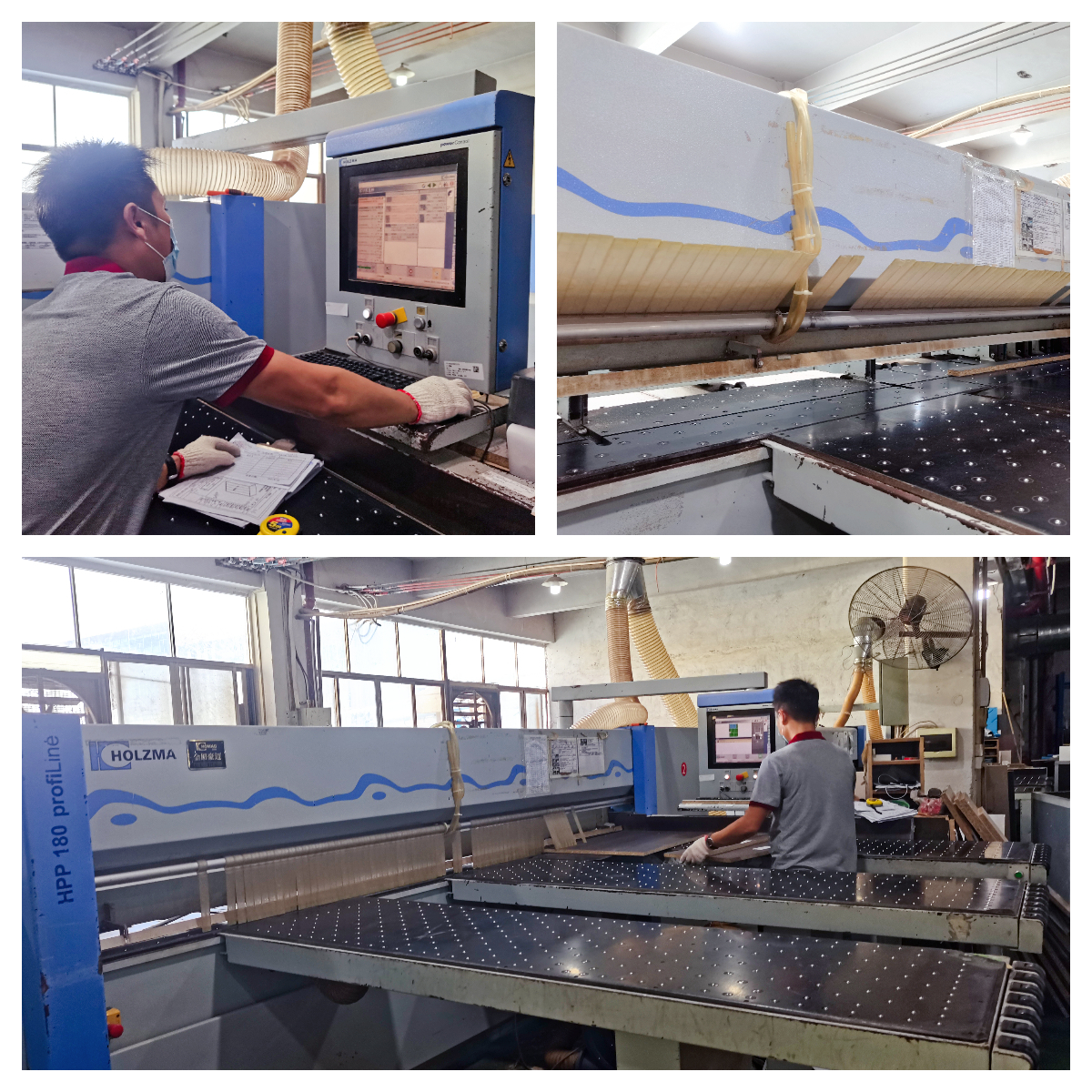 Step 5. Grooving
The main function of slotting on the base of the cabinet is to attach the boards to construct the unit cabinet. The most common types of cabinet slots are as follows:
1. Groove the side panel to match the flush mount of the 5mm back panel
2. Install the cabinet door with an aluminum alloy handle
3. Cabinet doors with aluminum trim strips installed
Aspire Building Materials uses a CNC router to slot each board. That depends on the size of the drawings required. All procedures are a result of the automatic operation of the machine. To guarantee the accuracy of the size.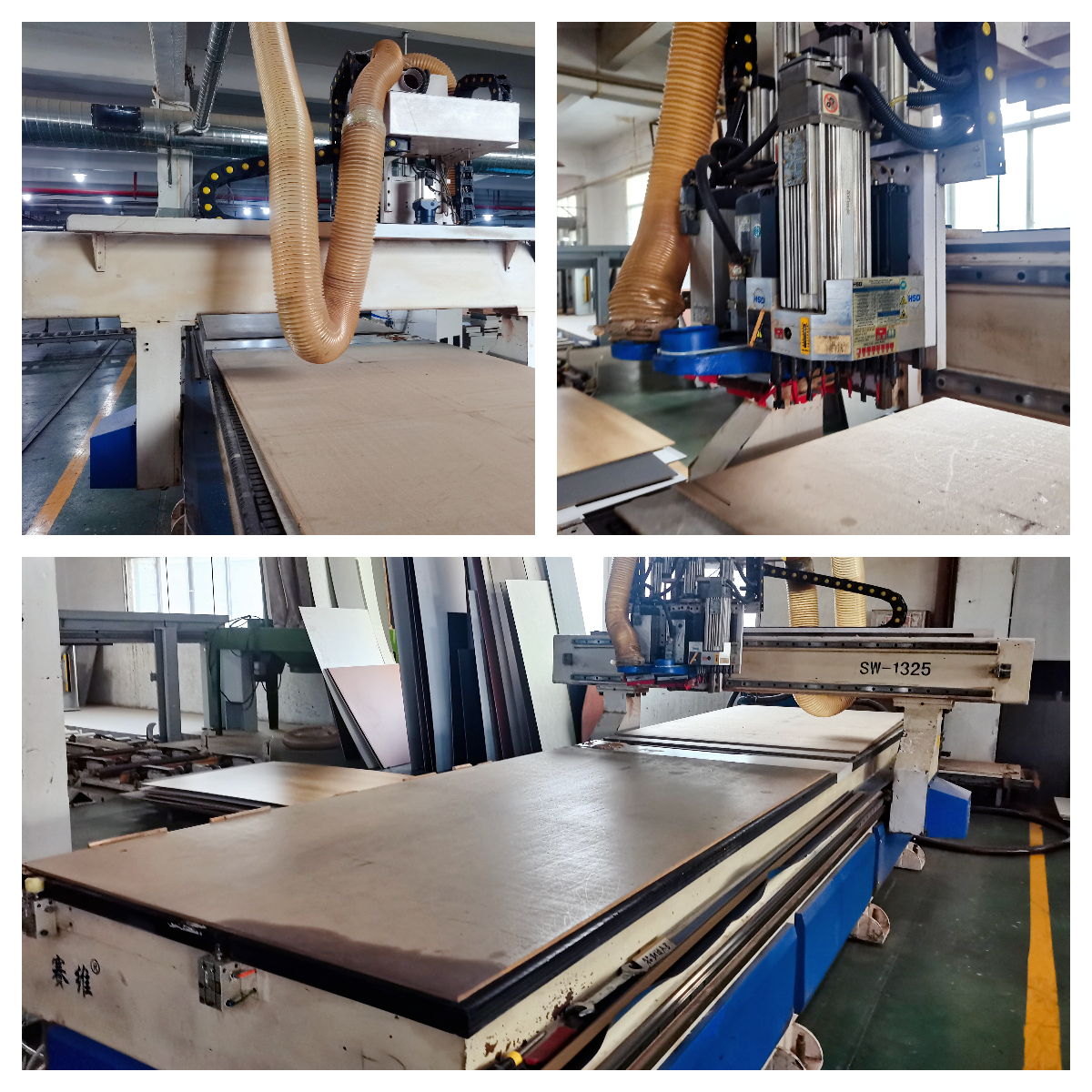 Step 6. Edge banding
Edge banding is the process of applying a strip of material to the edge of a boar. To finish look and seal off the raw edges. The most common type of edge banding is made from PVC or acrylic. The purpose of edge banding is to protect the edges of the board from damage and make it more durable.
There are many advantages to edge banding, including:
1. Edge banding protects the edges of boards and panels from damage.
2. Edge banding gives the finished product a clean, finished look.
3. Edge banding can be used to cover up imperfections in the edges of boards and panels.
Edge banding can be done by hand, but is most commonly done using a machine. Aspire Building Materials importing German HOMAZ machines. It is the best technology in the world when it comes to edge banding. These machines are known for their precision and quality, which is why our factory choose to use them.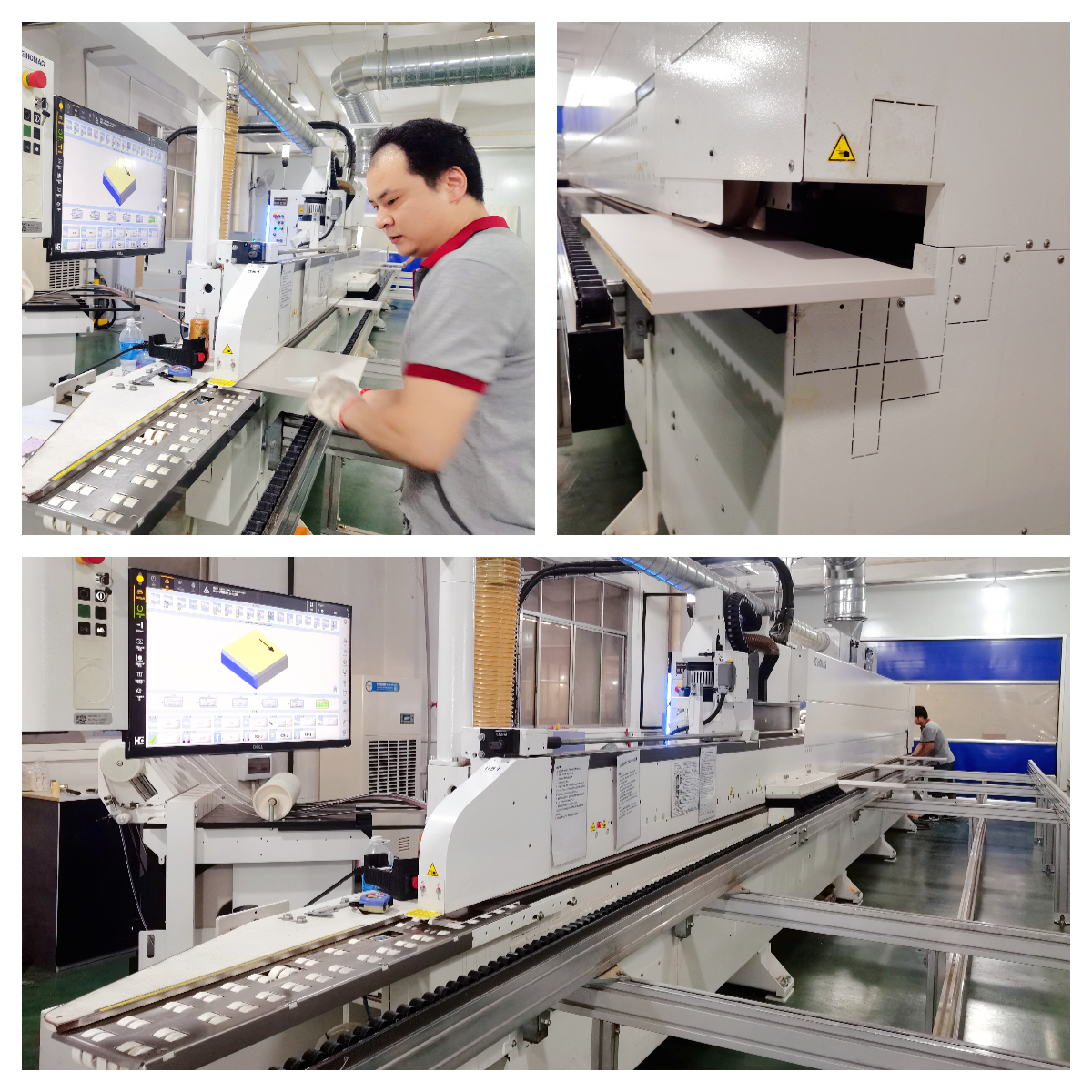 Step 7. Drilling
Kitchen cabinets are an important component of any kitchen. And the drilling process is an essential part of their construction. The drilling process is a method of construction. Where holes are drilled into the carcase at a predetermined spacing. This process allows for the installation of cabinet boards. Such as sideboards, bottom panels, top panels, etc. in a consistent and correct manner.
The kitchen cabinet drilling process. It was invented by the German company HOMAZ in the early 1900s. Aspire Building Materials importing HOMAZ automatic drilling system. The equipment allowed for efficiency. And accurate drilling of holes in mass-produced cabinetry. This process has revolutionized the way our cabinets are manufactured. Making it possible to produce high-quality products on a large scale.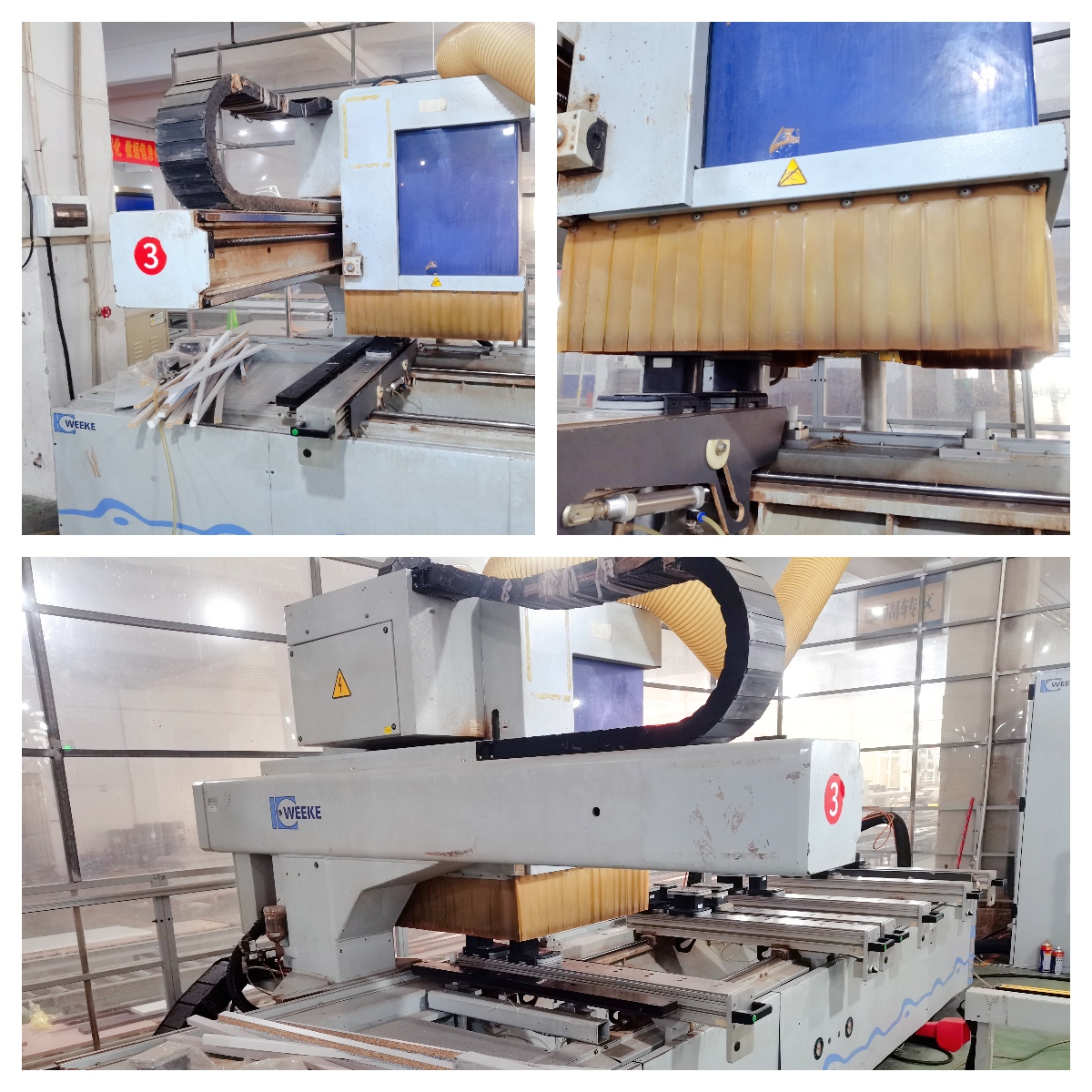 Step 8. Trimming and Cleaning
Trimming refers to the process of removing the excess material from the edges of the cabinet doors and drawer fronts. This is usually done with a trimmer operated by the workers.
Cleaning refers to the process of removing dirt and dust from the surface of the cabinets. This can be done with a professional board cleaner.
The process of trimming and cleaning kitchen cabinets is relatively simple.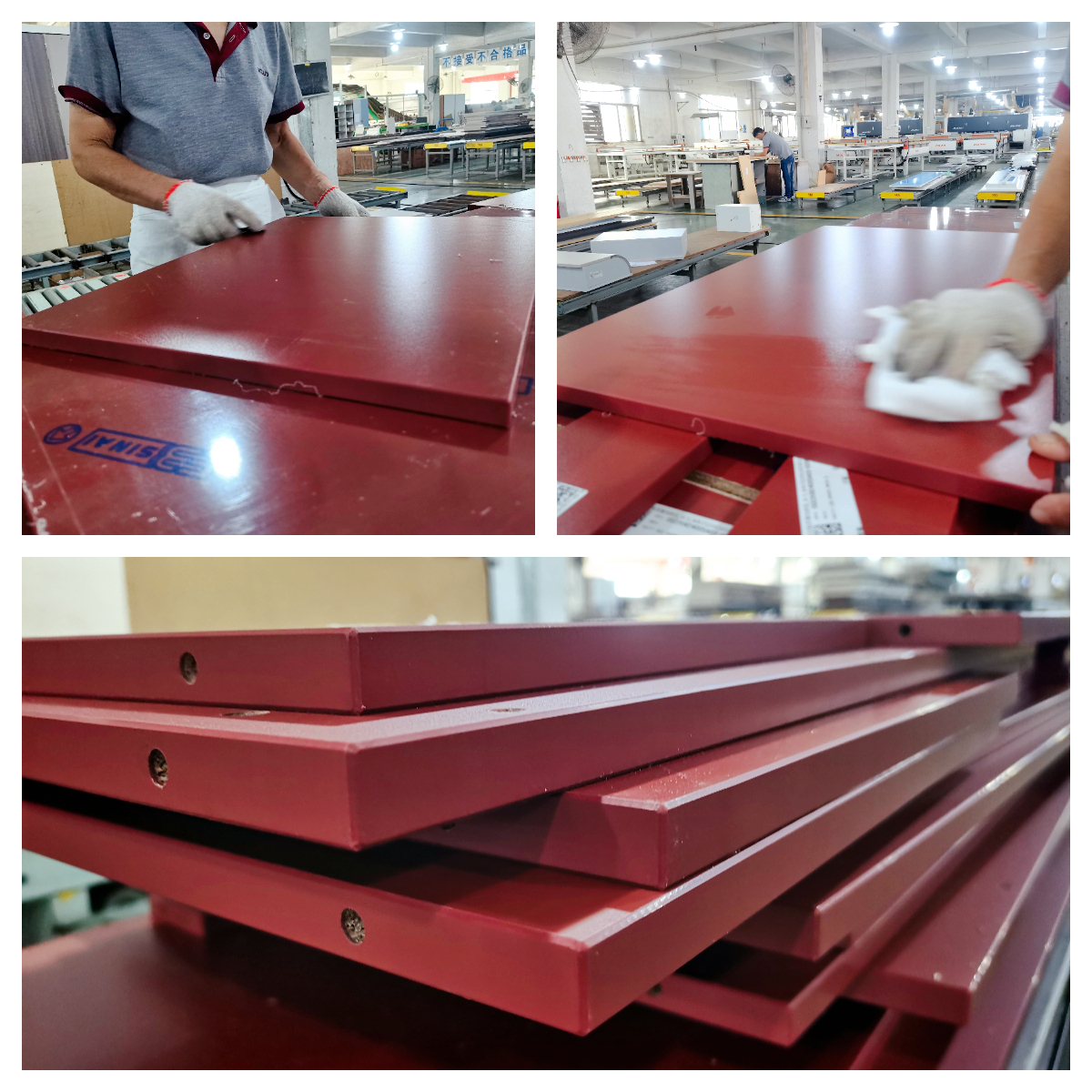 Step 9. Quality Inspection ( Pre-assembled )
A kitchen cabinet quality inspection is a process. That inspects the construction and materials of kitchen cabinets. This inspection is important. It ensures that the cabinets are made with quality materials and construction. As this can impact the function and durability of the cabinets.
There are a few things to keep in mind when performing a kitchen cabinet quality inspection.
1. Ask the manufacturer to have one set cabinet pre-assembly. All the carcase and door fronts are assembled. So that you can check if the board size and drilling holes are correct.
2. Check the color of the cabinet door and drawer fronts. To make sure they have produced under requests.
3. Inspect the hardware brand, types, and drawer boxes. To ensure they are constructed correctly and slide smoothly.
4. Check the finish of the cabinets for any nicks or scratches.
By following these tips. You can ensure that your kitchen cabinets are made with quality materials and construction. At Aspire Building Materials, we offer 100% pre-assembly service for each cabinet. To ensure everything we shipped is qualified.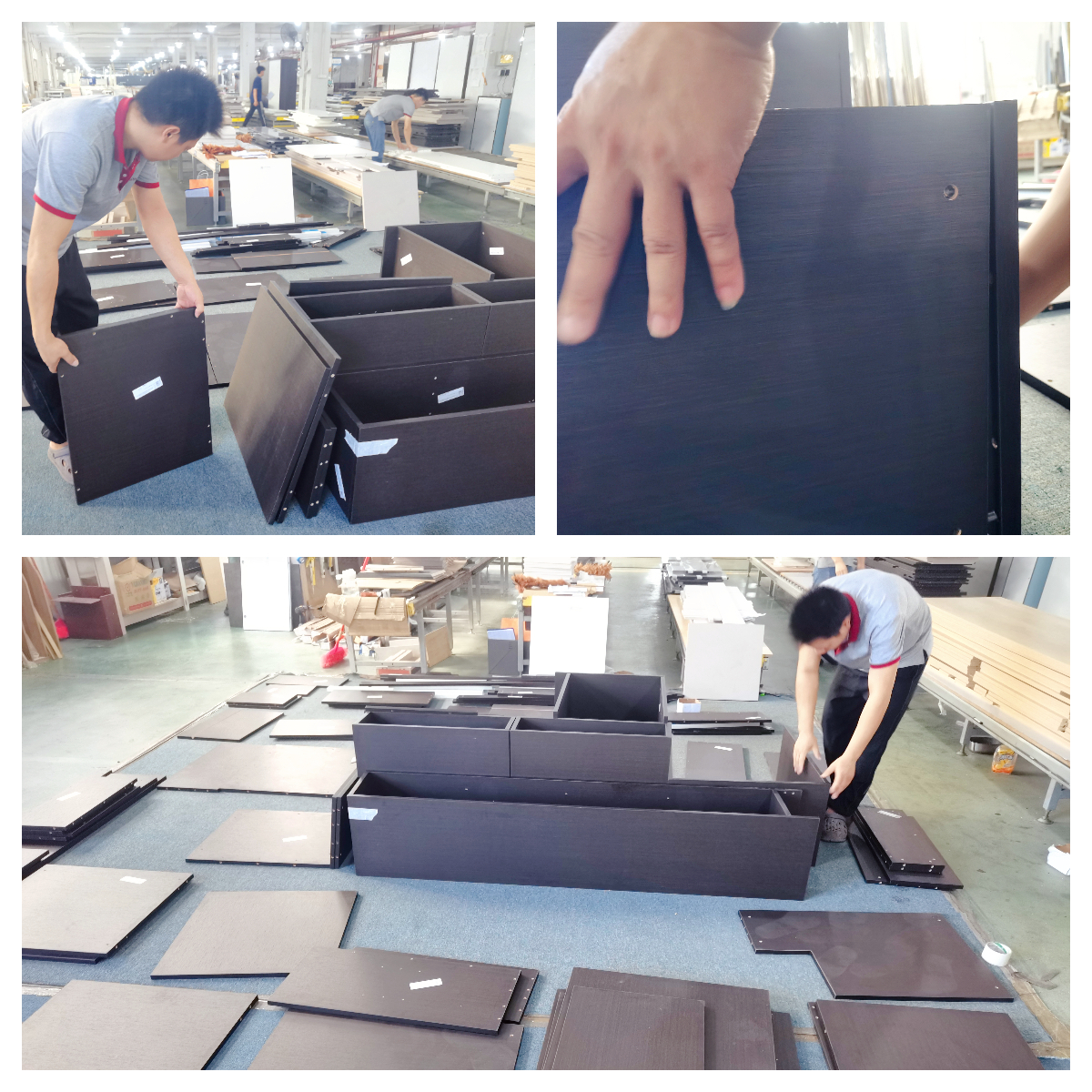 Step 10. Packing
The kitchen cabinet packing process is the final step. To make sure your cabinets are ready to be shipped. There are two ways to pack your cabinets, flat packing, and assembly packing.
Flat packing is when all the pieces of your cabinet are shipped unassembled in a flat box. This is the most common way to ship cabinets because it is more cost-effective. Yet, it does take more time to assemble the cabinets once they arrive at their destination.
Assembly packing is when your cabinets are shipped pre-assembled. This way they will be ready to install as soon as they arrive. But, this method is more expensive. Because of the extra shipping costs associated with shipping pre-assembled cabinets.
Aspire Building Materials offers 2 ways of packages. Either flat packing or assembly packing. Each kitchen cabinet is packaged carefully. So it can withstand the challenges of international shipping. Each package has corner protection. And foam inside the box to prevent damage during shipment.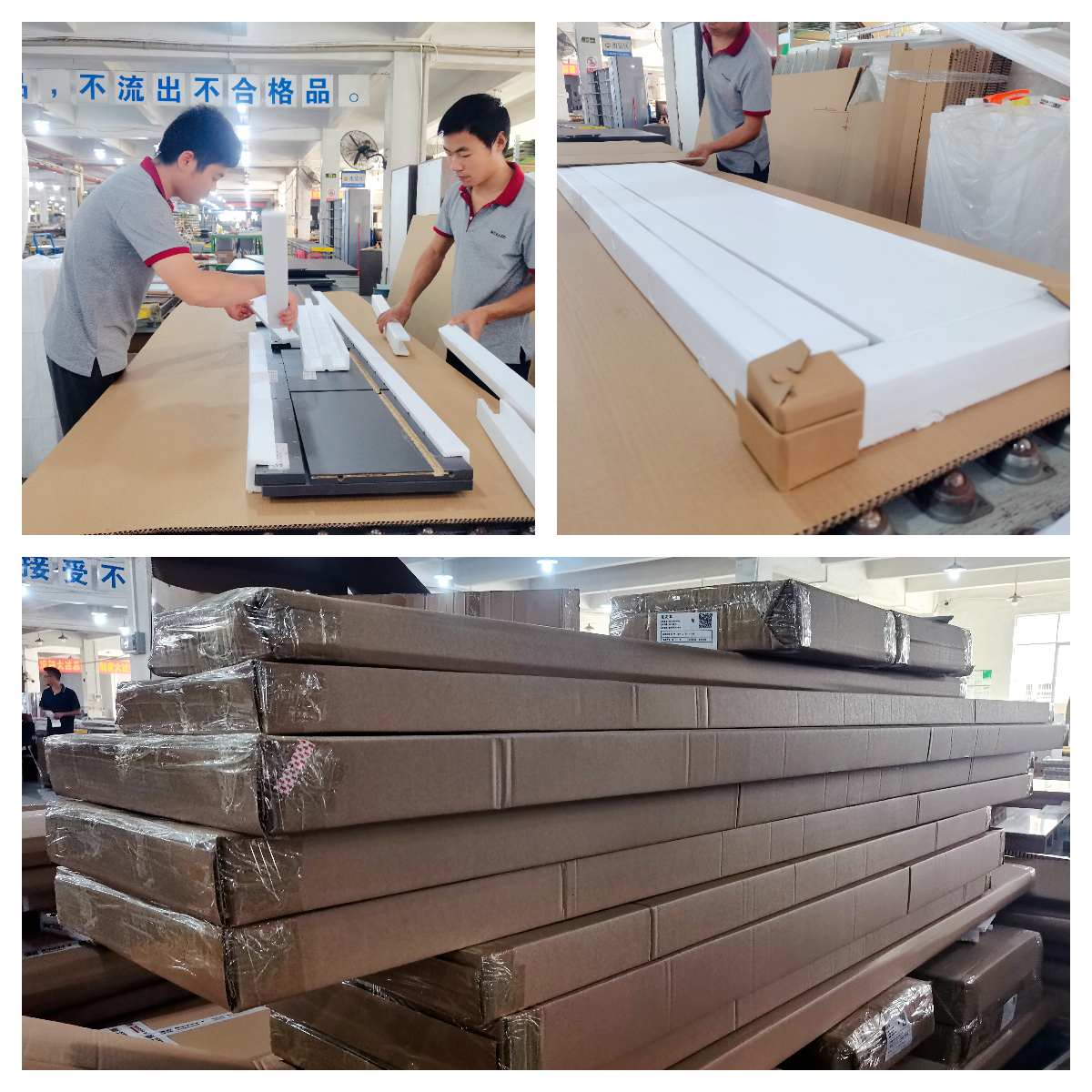 What kind of wood is used for our cabinets?
There are several types of wood that can be used for our cabinets including MDF, MFC, plywood, and MFC board. Each type of wood has its own advantages and disadvantages.
MDF is a type of engineered wood made from heat-pressed wood fibers. It is typically denser and stronger than particle board. It's often used for cabinet doors. Because it can lamiante to many different types of surfaces, such as acrylic, UV, PET, or lacquer.
MFC board is another type of engineered wood. That made from small particles of wood that are glued together. It is typically cheaper than plywood or solid wood and it resists moisture better than MDF. It's often used as kitchen cabinet and bathroom cabinet carcase material. As those two places are humid.
Plywood is a type of wooden board made from thin layers of wood that are glued together. It's more expensive than MDF or particle board, but it's also more durable. It's the best for luxury villa projects.
What goes into the hardware of our cabinets?
There are a few key things that go into the hardware of our cabinets. For starters, we use China's top 1 DTC brand. It means that our cabinets are made with high-quality materials and are affordable. This brand of hardware has been proven to be the most popular choice among 80% of customers. Compared with Blum, it is more affordable, but the quality is still excellent. Additionally, we also use Austrian Blum hardware for high-end projects. This is some of the best in the world. The combination of high-quality materials. And top-of-the-line hardware ensures that our cabinets will stand the test of time.
The hardware on our cabinets is what makes them function properly and look great. There are four main types of hardware. Includes hinges, drawer slides, cabinet organizers, and handles.
Hinges are what allow our doors to open and close smoothly. Without them, our doors would be very difficult to use. Drawer slides help our drawers open and close smoothly as well. Cabinet organizers help us keep our cabinets organized so that we can find what we need easily. Handles complete the look of our cabinets and make them easy to open.
What is the final step in creating cabinets?
After the kitchen cabinets are packed. The final step is to arrange shipment and installation. Here are some tips to get a cabinet installer:
1. Find a reputable company
There are many companies that install cabinets. So it is important to do your research and find one that is reputable.
2. Get multiple quotes
Once you have found a few reputable companies, get quotes from each of them so that you can compare prices.
3. Ask for references
When you are narrowing down your choices. Please be sure to ask each company for references from past clients. This will give you an idea of their workmanship and whether they are reliable.
4. Choose an installer with experience
You want to choose an installer who has plenty of experience because this ensures that they will do a good job.
Conclusion: Why choose our custom cabinets?
In conclusion, our custom cabinets are a great choice for many reasons. They are high quality, affordable, and come in a variety of styles to suit any taste. Plus, our team of experts is always available to help you make the perfect selection for your home. So why wait? Contact us today and let us help you create the kitchen of your dreams!