Kitchen Cabinets Material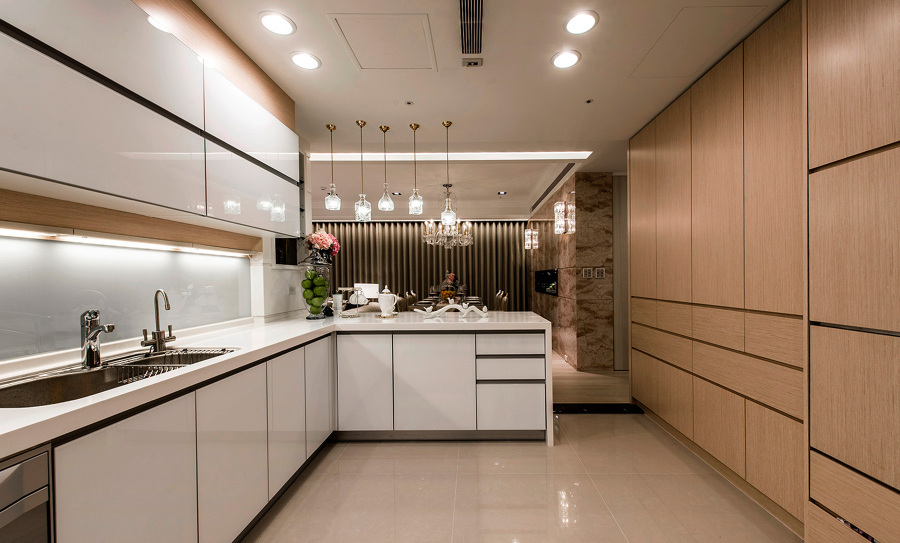 How To Choose Best Material For Kitchen Cabinets
Wednesday, 16 November 2022

1

1391

0
Kitchen cabinets are the most functional part of any home. It is an integral part of your interior design. It is important to make sure you find the best material for kitchen cabinets. And to complement your home's décor and style.

In this article, we listed the common six types of kitchen cabinet material. They all have their own pros and cons. It includes price, style, environment friendly, and maintenance.
I. Type of kitchen cabinets material
MDF
MDF (medium-density fiberboard) is a man-made fiberboard made of wood fibers. Glue the wood fibers together with a synthetic resin. MDF is denser than plywood and it has a smooth surface.
It is usually used for kitchen cabinets, wardrobes, and other interior home decoration. MDF is one of the most common materials for making furniture. It is also popular for use in the construction of speaker cabinets.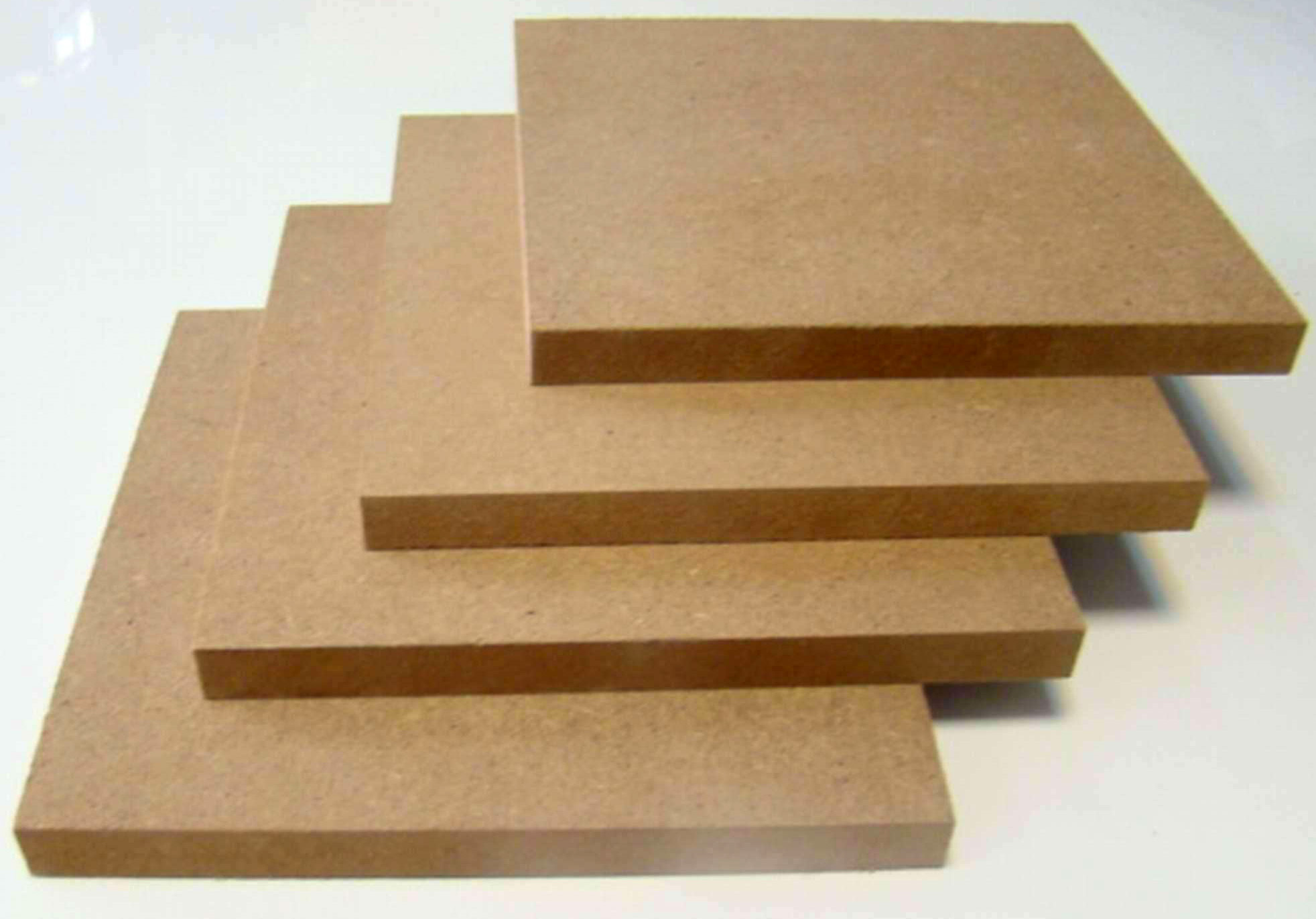 MDF board advantages and disadvantages
It is strong and stable, making it a good choice for furniture and cabinetry. MDF is not as durable as natural wood and is easy to damage by water or heat. It is also an available alternative to natural wood, which can be an advantage if the budget is tight.
Particleboard
Particleboard is a type of fiberboard, which is an engineered wood product. It is a small wood particle glued together with resin. The end result is a material that is strong and dense.
Particleboard applies for a variety of purposes. It includes furniture, flooring, and cabinetry.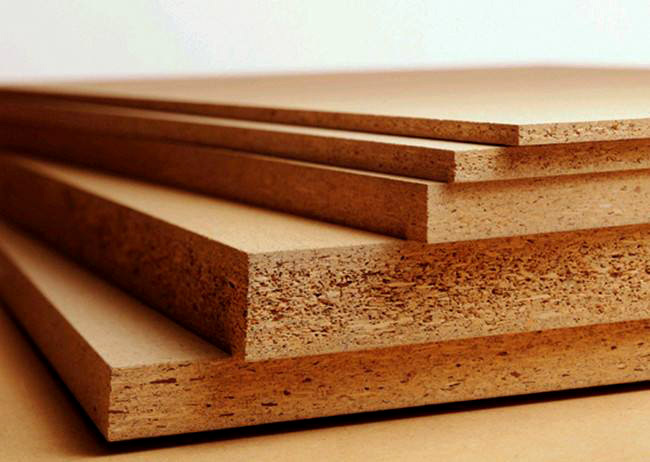 The disadvantages of particleboard
The particleboard has some disadvantages. The things you need to consider before making an order plan.

1. In some cases, particleboard is not very durable;

2. Sometimes, particleboard may contain unwanted particles;

3. It is not always easy to tell if particleboard uses recycled or virgin materials;

4. Some people are allergic to the glue used in making particleboard products.
The advantages of particleboard

The primary benefit of particleboard is its low cost. It is a type of wood that is much easier to work with than solid wood. It does not splinter or crack as solid wood does.

1. It is very easy to work with;

2. It is a common choice of furniture and flooring materials;

3. It is good to paint or stained at a later time, unlike solid wood which has to be done immediately.
Plywood
Plywood is a manufactured wood panel made from thin sheets of veneer. It is an engineered product using adhesives and then pressure and heat. Plywood is good for construction and shipbuilding. As well as for furniture, cabinetry, and other purposes such as floors, walls, and ceilings.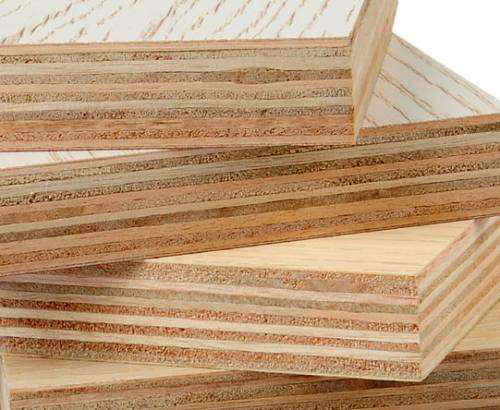 The advantages of plywood
Plywood has some distinct advantages over MDF. It is less susceptible to water damage than MDF. It can hold screws well. Plywood has better durability and strength than MDF.
The disadvantages of plywood
Many people consider plywood to be more expensive than Medium Density Fiberboard (MDF). The plywood is more expensive, it is stronger than MDF and has a higher resistance to warping. Plywood is also lighter than normal wood, but it is not as durable. Plywood is not ideal for large sculptures. Although some carpenters have used plywood for these projects.
Solid wood
Solid wood is a natural building material that humans used for thousands of years. We cut down the tree and then milled it into lumber. Solid wood is a good choice for furniture, flooring, and other construction projects. Because it is strong and durable.





The disadvantages of solid wood

1. It is heavy and can be difficult to work with;

2. It can also be expensive compared to other building materials;

3. It can be difficult to find the perfect piece of furniture in the right color and style;

4. It's taking a long time to recover from nature after cutting trees.
The advantages of solid wood

1. It is a good choice for people who want furniture that will last because it is resistant to scratches and dents;

3. It can refinish and paint many times, which means it is the material to match the décor of any room;

4. Wood is a renewable resource. It is a sustainable choice to buy a solid wood kitchen cabinet.
Is solid wood good for furniture?
Solid wood is often regarded as a high-quality furniture material. It is strong and durable, and it can add an attractive natural element to a room. That is why a solid wood kitchen cabinet is a popular choice for many people.
Stainless steel kitchen cabinet
Stainless steel kitchen cabinet is a cabinet made of stainless steel. It is a type of metal that is known for its resistance to corrosion and staining. This means a stainless steel cabinet will not rust, corrode, or stain like other types of cabinets. Stainless steel cabinets are often used in kitchens and bathrooms. They are durable and easy to clean.

The use of stainless steel in kitchen cabinets is an expensive, but very popular choice. This material was not used in kitchens. The common applications are restaurants, laboratories, medical storage. Now it has become a popular option in the home. It is much more expensive than wood cabinets and is made of a raw material called SUS304.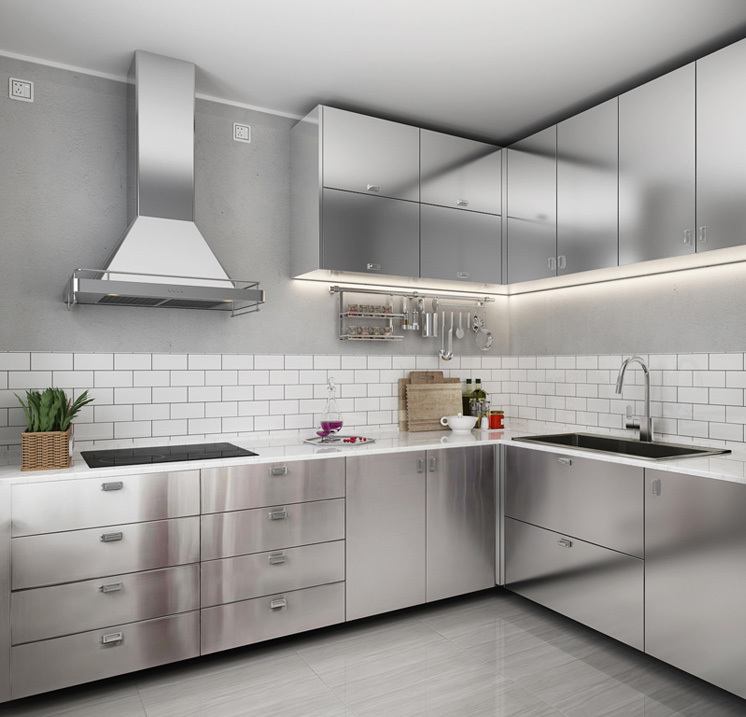 The disadvantages of stainless steel kitchen cabinet
1. It's quite expensive, especially compared to other materials like wood;
2. It's cold to the touch, which may not be ideal in a kitchen where you want to feel warm and comfortable.

The advantages of stainless steel kitchen cabinet
1. Stainless steel is durable and will last a long time;
2. Stainless steel won't rust and will keep its shine for a long time;
3. Stainless steel is easy to clean;
4. Stainless Steel is water-resistant, formaldehyde-free, fireproof, and anti-termite.
Aluminum kitchen cabinet
An aluminum kitchen cabinet is a type of cabinet made from aluminum. It's a good option for those who want a cabinet that is easy to clean and does not show fingerprints.

The disadvantages of an aluminum kitchen cabinet?
1. It's noisy;
The advantages of an aluminum kitchen cabinet
1. It's lightweight. This makes them easy to move around, which is great for small kitchens;

2. It's resistant to insects and water, formaldehyde-free, and fireproof;

3. It's durable and can withstand a lot of wear and tear;

4. It's easy to clean and maintain.
II. Price
Price is one of the most important factors when customizing kitchen cabinets. A reasonable and affordable price is the key to attracting customers to order. Below we list the prices range for each material for your reference.
According to HomeAdvisor, the average kitchen cabinet price for different materials,
Engineered wood: $4,000 - $15,000
Solid wood: $5,000 - $25,000+
Metal: $25,000 - $38,000 ( Aluminum is cheaper than stainless steel)

Solid wood is often considered a high-end material. The engineered wood contains particleboard, MDF, and plywood. Based on the raw material price at lowes below. You can decide which material you want for your kitchen cabinet based on your budget.
Particleboard: 3/4-in x 4-ft x 8-ft (1220*2440*18mm) US$38 per sheet
MDF: 3/4-in x 4-ft x 8-ft (1220*2440*18mm) US$63 per sheet
Plywood: 3/4-in x 4-ft x 8-ft (1220*2440*18mm) US$92.00 per sheet
III. Style
Your kitchen cabinets are a major focal point in your kitchen and can add a lot of styles, no matter what your budget is. With the choices in kitchen cabinet materials available. It can be hard to decide which material is best for you. Hope the below will help you make the best decision for your home.

The modern-style kitchen cabinets, like the material of MDF, Particleboard, and Plywood. It's popular in the market. It offers various door surfaces to choose from, and it's all plat-panel style.
Solid wood is a great material for traditional kitchen cabinets style. Wood is strong and tough, and it has a humble yet beautiful aesthetic. The variety of wood used to produce kitchen cabinets is impressive.
If you want a kitchen that is both waterproof and modern. It's good to consider the optional materials aluminum and stainless steel.
IV. Environmental friendly
There are many environmentally-friendly kitchen cabinet materials on the market today. When choosing the best material for your kitchen cabinets. It is important to consider the environment, your lifestyle, and your budget.

Solid wood is a popular choice for kitchen cabinets. It is durable and environmentally friendly. It comes from sustainable forests, and the manufacturing process is low in emissions.

If you very much care about environmental issues. Aluminum and stainless steel is the most environmentally friendly material for the kitchen. At the same, they are very expensive, even much more than solid wood kitchen cabinets.

Although MDF, particleboard, and plywood are the category of engineered wood. It has the risk to release formaldehyde. In the production process. The board is producing in strict accordance with environmental protection standards. It controls the formaldehyde under the European formaldehyde emissions standards. The factory has to have the products under SGS test regularly.
V. Maintenance
It's in the kitchen that we cook, eat, and work in our homes. Because of this, the kitchen has to be as functional and lovely as possible for its purposes. Hygiene is another important priority in the kitchen, and cabinets, drawers, and shelves. That is convenient to clean is most recommended.

Engineered wood kitchen cabinet
Particleboard, MDF, and plywood are materials that are easy to absorb water. After wiping the dirt off with water, wood swells and deforms. It becomes soft and can begin to ferment. It's best to avoid an excess of moisture and water on a clean surface. Use a damp, not-soaked towel to clean the cabinet. This will avoid the MDF, particleboard, or plywood cabinets from getting moldy.

Solid wood kitchen cabinet
The painting's surface is of solid wood. Because of their design, it is key to keep the paint surface clean. Use a dry fabric to clean the surface only, not a moist one. By the way, wipe the caved portions with a damp cloth too.

Metal kitchen cabinets
It is simple to undergo exterior and interior aluminum and stainless steel cabinet. You can clean, rinse, and soak as needed. You're not at all in danger of damaging your cabinets.
Conclusion

When it comes to remodeling your kitchen. One of the most important decisions you will make is what material to use for your cabinets. There are a variety of materials to choose from. Each with its own advantages and disadvantages.

Another main factor is the budget. The best decision for your kitchen style is based on your own situation. If it is still hard for you to decide on your kitchen cabinet renovation. Please contact us, we have a professional service team to show you the best solution.