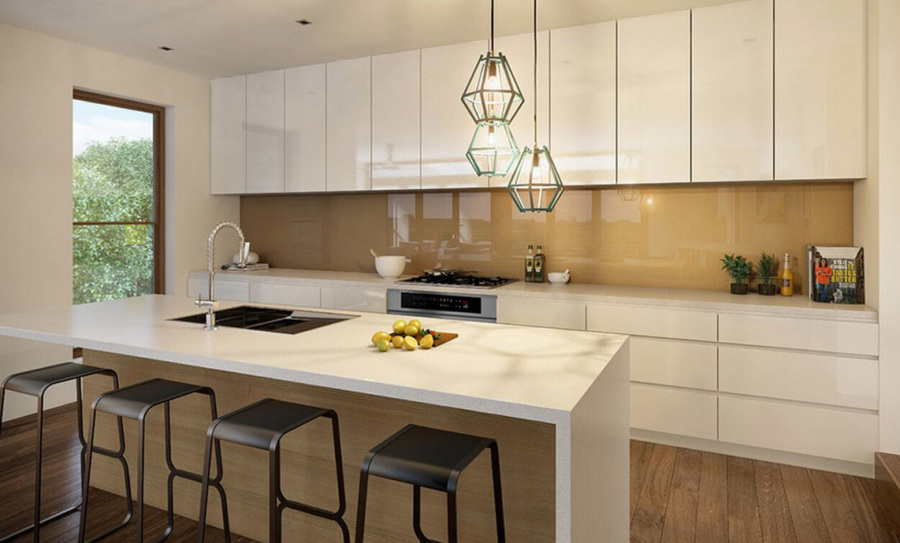 6 Things You Need To Know About Quartz Countertop In Kitchen
Wednesday, 16 November 2022

0

1041

4


Introduction
Quartz is the material that makes up the very first quartz countertop in the kitchen! It is durable and scratch-resistant. It is an ideal material for top-level kitchens. The quartz can produce to resemble marble, granite, or other standard countertops. The material is far more resilient than many of its rivals. It's tougher than granite or marble and is unlikely to burst when exposed to heavy abuse.

In this article, we discuss what makes quarts a good choice for your kitchen. The pros, and cons, price, durability, appearance, and other important factors to consider. It is a practical reference when choosing granite versus quartz for your new kitchen!
What is the quartz countertop in the kitchen?
Quartz countertop is a stable and durable engineered stone. It is a good material for kitchen cabinets, laundry cabinets, and vanity countertops. It consists of around 90 percent quartz and 10 percent polyresin. They combine the best natural stone with modern manufacturing processes. This characteristic of quartz makes the kitchen benchtops more scratch-resistant.
You can select any type of material, style, or finish for your countertops. Such as quartz, granite, laminates, acrylic solid surface, and natural stone. Besides, quartz is an excellent option for the construction industry as well. For the hotels, restaurants, hospitals, banks, and laboratories.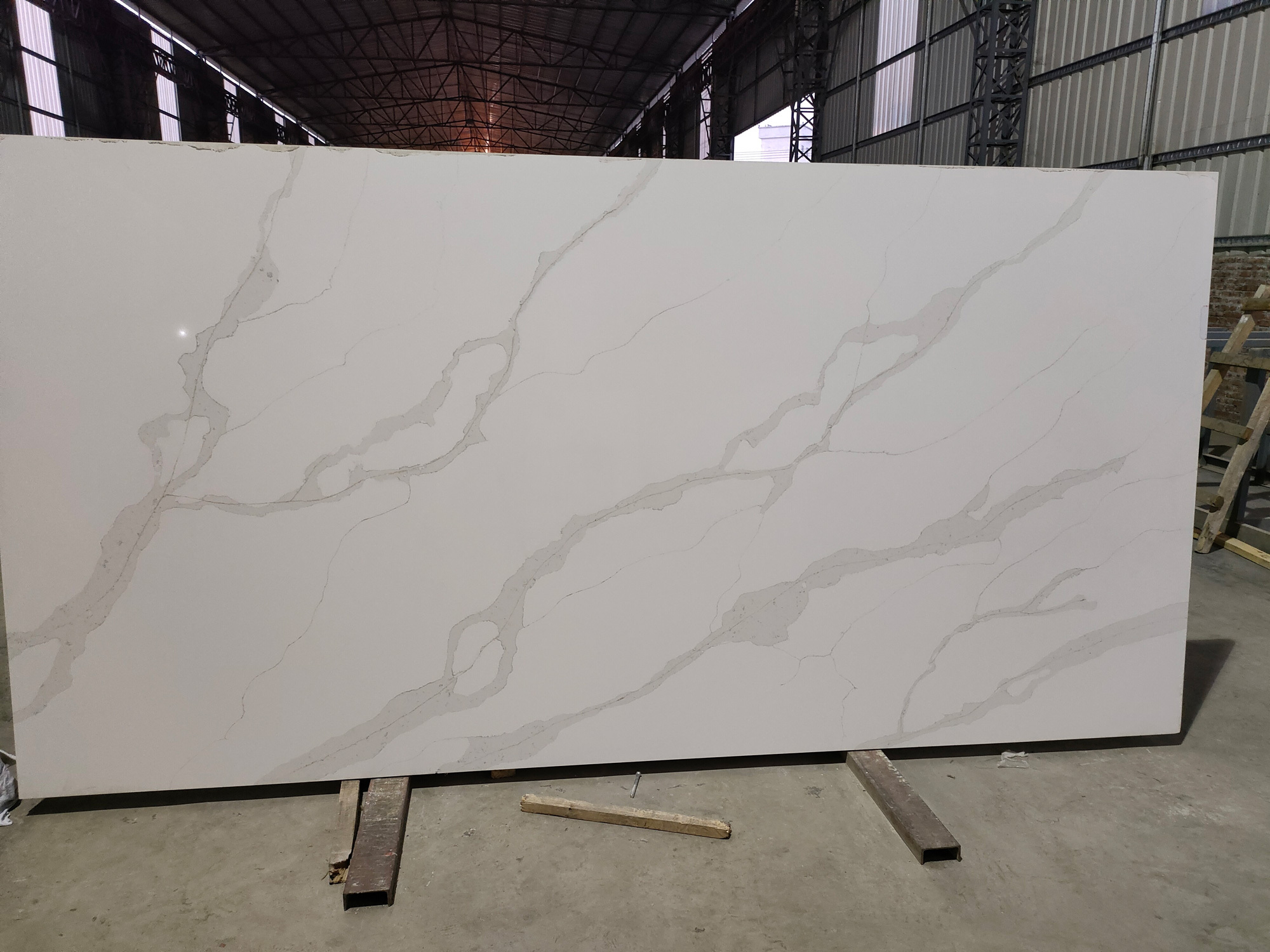 Quartz

kitchen countertops Pros and Cons
Pros:
There are plenty of benefits when it comes to choosing a quartz kitchen countertop for your home.
1. Durable Performance
The quartz kitchen countertops tend to be more durable than other types of granite. Quartz is resistant to acute wear and tear and scratches. It would be a great choice if you are thinking of designing your kitchen projects.
2. Appearance
Quartz countertop manufacturers can create any color and shape you like. With pigments and other types of materials such as recycled glass and metal flecks.
Quartz countertops offer infinite design possibilities. Besides those available with natural stones such as granite. You can place the quartz countertops anywhere you like. To match your cabinet material, cabinet color, backsplash, and flooring.
3. Germproof
The quartz kitchen countertop is a non-porous material. You do not need to seal it. And you won't ever have to face the challenge of liquid or germs penetrating the countertop.
Natural stones have tiny pores throughout their surface. It allows liquids to seep below the surface. To result in blotching, discoloration, and irreversible damage.
Also, bacteria and germs are capable of moving into openings on a natural stone. It makes us even harder to clean its surface.
4. Stain Resistant
Quartz kitchen countertops own para lenticularis chemical properties. It makes them very good at stain-resistant.
Some kinds of stones are more prone to staining. Because it's easy to absorb liquids. Granite and marble are porous. It results in them being more susceptible to stains.
Quartz is not easy to crack. So you can count on your dinnerware to remain flawless with very little maintenance. For families with children, this is a tremendous selling point.
Although quartz may be stain-resistant, it can still be stained. The resins and pigments make up 10% of quartz countertops. It can react with certain chemicals and lead to damage.
Do not touch bleach, strong cleaners, oil paint, paint remover, glue, or oil soaps. These substances could stain or damage your quartz countertops. So means, we should contact a professional for damage repair.
5. Simple Maintenance
One of the main reasons to choose quartz countertops is that they don't need much maintenance.
Quartzite is cheap on maintenance. It's unlike some types of granite. They need special cleaning methods before being able to use them in your kitchen. The quartzite needs regular scrubbing with a sponge and water once a month or so to keep its color intact.

6. Multipurpose
Quartz looks particularly great as a countertop material in the kitchen. It's also a fantastic material for fireplaces, bathrooms, living rooms, and any room of your home. It can use for coffee tables and dining tables. Quartz is an incredibly versatile substance thanks to its strength and aesthetic options.
Cons:
1. Costly
Compared with DIY options, such as wood, laminate, and concrete. They cost less than $10 per square foot. The quartz is expensive about $60 to $90 per square foot, including installation. Acrylic solid surfacing costs about $40 to $80 per square foot installed.
2. Extreme heat resistance is not affordable
Only up to a certain point can you count on quartz home countertops to avoid heat damage. Most manufacturers say their products can handle up to 400 degrees F.
The heat from a pan left on the counter may cause the surface to crack. To be safe, always use a trivet or a hot pad.
3. Not for outdoor use
Install it outdoors in an uncovered area, and you'll void the warranty. The direct sun regularly beats down on the surface of the countertop. It can cause the colors to fade or the surface to warp or crack over time. Currently, none of the major manufacturers offers an outdoor-approved quartz counter.
4. Installation Is Difficult
Installing quartz countertops is not an easy DIY project. It requires skilled stonemasons to measure, level. In the end glue, and secure the slaps to the cabinets or island.
Its weight varies between 20 and 25 pounds per square foot, making it much more difficult to set up.
Quartz kitchen countertop colors
The pigment used in making quartz stone countertops is available in a wide variety of colors. It gives quartz stone countertops a wide variety of shades. Quartz kitchen countertops are a good choice for improving the home design. These countertops are available in various colors. Such as white quartz kitchen countertop and black, as well as various patterns.
According to ARCH CITY lists the most popular color in the market for reference.

How thick is quartz kitchen countertop
Quartz comes in two standard thicknesses for kitchen benchtops. You will often be able to select between 15mm thick and 20mm thick. Before you decide on the perfect combination of thicknesses. This increases the cost of your setup at hand.
These two thicknesses are the most common for various counter styles. Quartz is standard when compared to naturally occurring materials.
Quartz kitchen countertop edges
Quartz countertops have many standard edges. You can choose a suitable edge for your kitchen style. The following edge profiles are among the most typical:
1. Straight edge

2. Beveled edge

3. Tapered edge

4. S-shape edge

5. Round edge
Quartz surfaces are one of the most popular options available on the market today. These surfaces may be the focal point of any room they're inserted in. When selecting the optimal edge style. It would be good to always choose the style that matches your home house decoration. So that you can augment the quality of the countertop.
Quartz kitchen countertop prices
Available in a variety of colors and styles. The quartz countertops are a practical and beautiful choice for your kitchen. They're also durable, easy to clean, and resist staining. The typical price range is between $3,000 and $7,500. They're a cost-effective option for updating your kitchen.
Conclusion
Quartz countertops come with a variety of advantages. This is a manufactured stone that comes in a variety of colors and patterns. It gives you a lot of design versatility.
In my view, the favorable traits of quartz countertops outweigh the cons. It's dural, stain-resistant, non-porous, and easy maintenance. And it's available in stylish, modern, and natural designs. There's not much to dislike about quartz countertops.